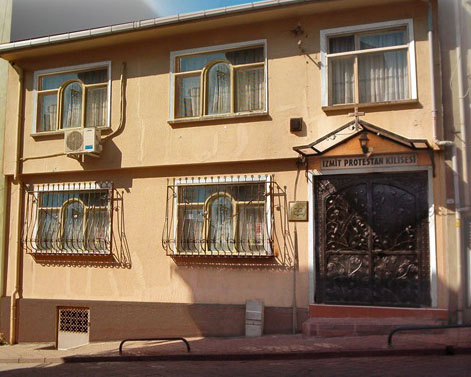 Pastor Emre Karaali continues to lead Izmit Protestant Church, about 100 kilometres east of Istanbul, undaunted by the foiled plot to assassinate him in January. The number of first-time visitors at the Easter service encouraged him greatly.
Turkish police have released 13 of the 14 suspects arrested on 15 January 2013, when counter-terrorism police foiled a plot to assassinate Pastor Karaali (33). The eleven men and three women had reportedly planned to murder him during a week of evangelistic meetings. Pastor Karaali does not know the whereabouts of the conspirators, and he and his congregants will not know anything until details of the police investigation are released at trial, which has not yet been scheduled.
Two of the suspects had pretended to be part of the congregation for more than a year. The one who befriended Pastor Karaali most closely is still in jail, and two others must remain in Kocaeli Province until the trial. The chief suspect reportedly acted "like a Christian" and visited the pastor's house a number of times, while the other documented everything that happened at church and logged Pastor Karaali's activities, such as when he left home, when he arrived at church and what he did publicly with his family.
Pastor undaunted
Since the assassination attempt, the church has been determined to continue as usual, although members are more suspicious of newcomers, particularly those who take pictures of them or the building. "Some wonder if newcomers are fake Christians as well," said Pastor Karaali. "But I remind my congregation that the apostles and early church went through similar troubles. Satan is angry, and he is trying to attack us."
Pastor Karaali remains open to the estimated 30 visitors per week who drop by the church and ask questions about religion. On 3 April, for example, an agitated man in his early 20s came to talk with the pastor. He had become a Christian a few weeks previously and was fleeing his antagonistic Muslim family in Istanbul, passing through Izmit on his journey eastward. Pastor Karaali encouraged him with promises of God's faithfulness.
Security measures
The church has made only small changes to its security since January. A new lock was installed on the door, as one of the alleged conspirators had a key to the building. A sophisticated security system was already in place due to past attacks. Three security cameras monitor the perimeter, and chicken wire covers the windows to defend against projectiles.
Pastor Karaali, his wife and their two small children have moved from a ground-level apartment to a more secure apartment complex. Police offered him protection, but he turned it down. "I would be too uncomfortable with this," he said, "particularly when doing things like helping out with another house church."
In January 2012 he received a death threat by phone, and another threat of violence was made during the summer.Five years ago, 28 people were taken into custody on charges of forming a criminal organisation involved in violent extortion: among their objectives was to assassinate the then-pastor of Izmit Protestant Church, Wolfgang Hade.During Christmas 2006, an unknown arsonist started a fire outside the wall of the church building. Molotov cocktails have also been thrown against the building in the past.
Small Christian community
Izmit, a city of nearly 303,000 people, has only 30 to 40 Protestants, of whom about 20 are actively involved in Pastor Karaali's congregation. For a church outside Istanbul, the congregation is considered large. Izmit Protestant Church also supports a house church of ten Christians in the nearby city of Adapazari. Pastor Karaali, like his congregation, is a former Muslim.
Turkey's tiny Christian population sometimes faces problems from the Muslim majority, and also from anti-government elements trying to destabilise the administration. Christians may practice their religion, but converts from Islam face discrimination from family members, the government and employers. It can be difficult to obtain legal permission for new church buildings, which are sometimes perceived as a threat.
Izmit church began in 1999, and over the years relations have slowly improved with those who live in the neighbourhood, as the patience and love shown by the Christians overcomes prejudice.
(Morning Star News)
Share this