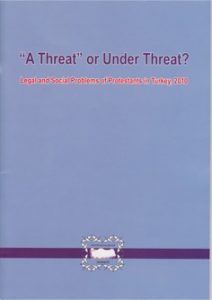 David Turner (Church in Chains) and Tom Slattery (Evangelical Alliance Ireland) have presented the Turkish Ambassador to Ireland, Mr Altay Cengizer, with a copy of "A Threat' or Under Threat? Legal and Social Problems of Protestants in Turkey, 2010", published by the Association of Protestant Churches in Turkey.
The 48-page report details the problems faced by Protestant Christians (who number about 3,500) in the areas of legal recognition, permission to worship, protection against hate speech, training clergy and discrimination. Evangelical Christians are known as Protestant in Turkey because there is no Turkish word for evangelical.
The report acknowledges that changes to the law in recent years have enabled churches to become registered as associations but it documents the uneven application of government regulations and continuing problems in finding places of worship.
The report contains 30 recommendations covering areas such as national and local government, legal regulations, educational textbooks and media reporting and comment on Christians.
During an hour-long meeting with the Ambassador, there was a wide-ranging discussion on issues such as the historical legacy of religious and ethnic violence in Turkey, the situation of other churches (Orthodox and Roman Catholic) in Turkey, the freedom to change one's religion and the beliefs of Protestant Christians.
Following the meeting, David Turner said, "We are pleased to have had the opportunity to present this report to the Ambassador and to discuss some of the issues that it raises. The Protestant community in Turkey is relatively small and often faces many misunderstandings.
"The Ambassador, like many Turkish people, is of the view that Protestant Christians represent a particular historical tradition whereas the report makes clear that the vast majority come from a Muslim or atheist background. We sought to communicate to him that Protestant Christians are proud of their nationality and simply desire the basic human right of religious freedom."
You can download a copy of the report here (750KB).
Share this