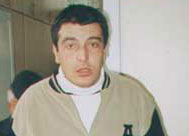 Yakup Cindilli has visited some of his Christian friends for the first time since he was badly beaten up last October. In late July, he took a bus to Istanbul where he spoke to a number of Christian friends whom he knew from his time living there.
He also visited the Christian bookshop in Bursa where he talked and prayed with Pastor Ismail Kulakcioglu and three other Christian friends. He thanked the Lord that he was alive and prayed that God would bring him back to full health. Yakup requested a Bible and other Christian materials before he returned home to his family.
Yakup, who is aged 33, spent two months in a coma following the attack on him by ultra-nationalists who accused him of handing out New Testaments. His assailants were all released from custody in February and court hearings postponed until June 2005.
Yakup's friends saw a noticeable improvement in his health but also observed that he wasn't always able to pronounce his words clearly and has gained considerable weight in recent months Рdue to medication.
Yakup (who became a Christian two years ago)is being cared for at home by his devout Muslim family. (Compass)
Share this