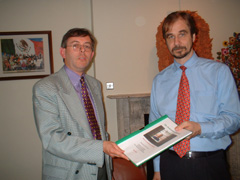 Yesterday in Dublin, David Turner and Bert Van Embden of CCFC presented a dossier to the Mexican Ambassador, Agustin Basave, about the Innocent of Acteal case. The Acteal prisoners (mainly evangelical Christians) have become victims of a dreadful miscarriage of justice..They are serving a sentence of 36 years imprisonment after a hasty trial in which they were falsely accused of involvement in a massacre in 1997.

The dossier was mainly based on David1s findings during his recent visit to Chiapas but also included a summary of the key evidence (compiled by Dr. Hugo Eric Flores) which shows the men1s innocence.

Mr. Basave asked David a number of questions about his visit and said that he would send the dossier to the Mexican Foreign Ministry with a request that it be forwarded to President Fox.

Mr. Basave told David and Bert that the Embassy had made regular enquiries about the case from the Foreign Ministry but had received no new information in the past year. He suggested that this might be because the case was considered legally closed. In response, David emphasised the need for the fresh evidence (which was not heard during the trial of the men) to be examined.

PRAY… that this dossier will be carefully studied by the Mexican government and that a review of the Acteal case will be ordered.
Share this