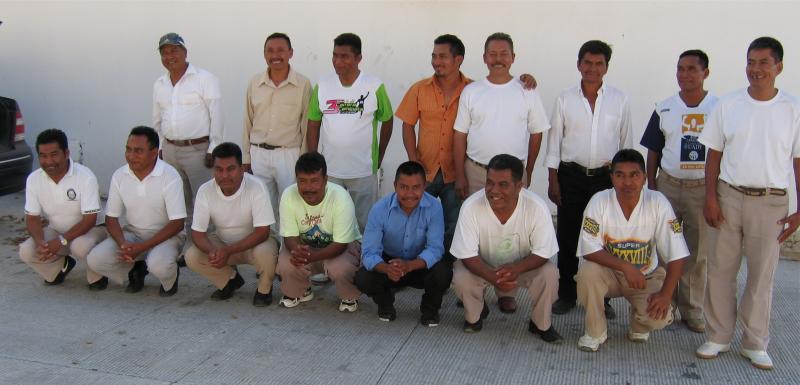 On Wednesday 10 April, the Mexican Supreme Court sitting in Mexico City ordered the release of 15 of the "Innocent of Acteal" group of prisoners who have been imprisoned since March 1998. The 15 men were released from Amatá prison late on Wednesday night and taken to Tuxtla Gutierrez, the state capital of Chiapas. Their families have travelled from their homes in remote villages to Tuxtla to greet them.
The names of the men who have been released are: Manuel Vazquez Ruiz, Javier Luna Perez, Felipe Luna Perez, Jose Perez Guzman, Manuel Perez Luna, Daniel Hernandez Perez , Miguel Lopez Gomez, Lorenzo Gomez Vazquez, Manuel Perez Perez, Antonio Gomez Perez, Javier Gutierrez Perez, Fidelino Gomez Perez, Juan Nicolas Vazquez Perez, Jacinto Cruz Arias, Mariano Gomez Ruiz.
The newly-released men will not be allowed to return to their homes in the Chenalho region (which includes Acteal) due to fears of confrontation with local opposition groups. Instead, the state government has promised to provide housing, employment and reintegration into society for the released men. However, the prisoners who were released in 2009 and 2010 are still living in temporary accommodation awaiting such provision.
A friend who visited the newly-released men said, "It was interesting to observe the men during our visit. Some would talk, and the others would just gaze around the room, and the yard outside, as if in wonder. I asked what they found so interesting, and the men replied they realised they were finally free, after all these years of internment and praying for freedom. I was awestruck by the enormity of their realisation, and the tremendous adjustments they will need to make to adjust to being "outside" again. I am sure it will take weeks and even months for them to adjust to living in a radically changed society."
Background
"The Innocent of Acteal" were a group of 79 prisoners, mainly evangelical Christians, who were unjustly imprisoned since March 1998 on false charges of participating in the Acteal "massacre". Forty five innocent people (mainly women and children) died in the violent gun battle in December 1997.
The men had always protested their innocence and their lawyers presented convincing evidence of their innocence. This evidence was accepted as far back as September 2004 when the Office of the Attorney General issued a statement recommending the release of most of the prisoners. None was released due to strong, organised local opposition. The first 20 prisoners were finally released in August 2009 and further groups were released in 2010 and 2012.
The latest releases mean that only 6 of the group remain in prison: Jose Guzman Ruiz, Alfredo Hernandez Ruiz, Elias Luna Vazquez, Victorio Oyalte' Paciencia, Antonio Perez Hernandez and Lorenzo Ruiz Vazquez. Their cases continue to be represented by lawyers.
Campaign
Church in Chains has campaigned for many years for justice to be done in what is the longest-running criminal case in Mexican history. In 2003, David Turner went to Chiapas to visit the prisoners and meet their families, pastors, lawyers and the government officials involved in the case. Church in Chains delegations have met the Mexican Ambassador to Ireland on five occasions, one of which included a meeting with Vicente Fox, then Mexican President. Church in Chains has sent aid to help the families of the prisoners and has organised letter-writing and postcard campaigns.
Share this