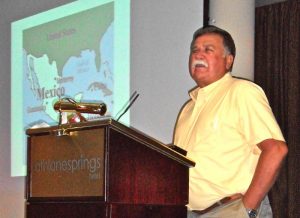 About 140 Christians from various parts of Ireland gathered in Athlone in September for the annual Church in Chains conference.
The guest speaker was Al Schreuder, who is from the USA but has lived in Mexico for 30 years. He travelled from the state of Chiapas to tell the story of The Innocent of Acteal, a group of 79 prisoners – mainly evangelical Christians – who have been imprisoned in Mexico for over twelve years on false charges. The conference heard about the 29 men who were released last year (following a decision of the Mexican Supreme Court) and also of the continuing struggle for justice for the remaining 50 prisoners.
The released men have to live far away from their homes and families, in temporary rented accommodation, because of local opposition. Meanwhile, those who remain in prison feel discouraged, and Al spoke of recent difficulties they have experienced. Al is one of four people who provide pastoral care to all the men and their families and he regularly visits the prison. As well as updating conference delegates and filling in background details, he brought lots of photographs to show.
During the afternoon session, Al told delegates about the growth of the church in Chiapas. He spoke about how scores of churches have come into existence among the indigenous people, but also how many Christians have suffered for their faith by being expelled from their local communities. The delegates broke up into small groups to pray about what they had heard during the morning and afternoon sessions.
During the afternoon there was an opportunity for everyone to write messages of encouragement to the prisoners, on cards that Al will deliver personally. Also, some time was devoted to updating delegates on the situation of Christians in some other countries, focusing on cases that Church in Chains supporters had been following during the year.
During the week after the conference, Al accompanied David Turner to several meetings around Dublin and Wicklow, where Al was able to share his experiences in Chiapas and meet some people who had not been able to attend the conference.
Share this