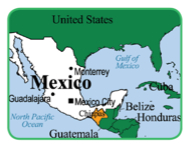 On 12 September 2011, about 70 evangelical Christians from the village of San Rafael Tlanalapan, Puebla state, were told to leave immediately or be "crucified or lynched."
They were expelled by locals who follow a blend of indigenous and traditional Catholic rituals – often only a veneer of Roman Catholicism over native Mayan Indian religion. The traditionalists, who comprise the majority in San Rafael Tlanalapan (about 97 kilometres from Mexico City), reportedly threatened to burn down or otherwise destroy the homes of the evangelicals.
Tensions between evangelicals and traditionalists exist in some areas of southern Mexican states such as Puebla, Hidalgo and especially Chiapas, because evangelicals have been perceived as betraying their communities. Traditionalist festivals are very important in local communities, and they are a major cause of tension because evangelicals often refuse to make financial contributions towards and participate in them, as they include heavy drinking and adoration of saints. Read more in the Mexico country profile.
Animosity towards the evangelicals in San Rafael Tlanalapan has been building for years. The local traditionalists reportedly claim that 20 years ago an assistant village president issued a diktat that no non-Catholic temple would ever be permitted in the village. The evangelicals have never been allowed to build a church, and in 2006 they had to appeal for government help after traditionalists pressurised the village authorities into cutting off their water supply. (The same thing happened recently in San Jose de Axuxco, Puebla state, when officials cut off water supplies to members of a Baptist church after they refused to contribute to a local festival.)
Tensions reached crisis point on 4 September 2011 when local priest Ascension Benitez Gonzalez reportedly instructed his parishioners in a sermon to pressurise the evangelicals to leave for good. On 7 September the village assistant president, Antonio Garcia Ovalle, met with the evangelicals, and it was agreed that they would leave on 12 September. About 200 traditionalists attended the meeting and threatened to attack them and their property and expel them immediately.
Most of the evangelicals have sought refuge in nearby towns, including the municipal centre of San Martin Texmelucan (where there are evangelical churches) while some reportedly have sought sanctuary in a church building in Alto Aposento.
In a local TV newscast on 14 September, traditionalist Irma Diaz Perez said, "They will never return, because we have drawn up a document wherein they have no permission to come back now or ever." Another traditionalist, Hortencia Minero Garcia, said critics should not blame the priest for the expulsion: "We are strong Catholics and respect our religion and don't want anyone to touch our priest, because he has nothing to do with this – it is the people."
In Puebla city, Archbishop Victor Sanchez Espinosa said, "It is necessary to respect the traditions of the towns. The Catholics feel attacked, but we would hope there would be no violence. I invite the community, totally Catholic, and the small Christian community, to prudence, order and respect."
The Mexican constitution grants indigenous communities some autonomy to exercise traditional law, the intention being to protect indigenous customs from government obliteration. Protestant lawyers say the article is misused to allow local authorities to violate the religious freedom of minorities, with traditionalist Catholics evoking it to jail or expel those who differ from them. (Christian Solidarity Worldwide, Compass Direct News, Release International)
Share this