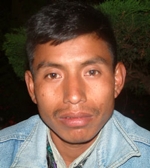 Juan Mendez Mendez (aged 25) became a Christian on Easter Saturday at a village in the southern state of Chiapas and decided to join the Eagle's Wing Pentecostal Church. Prior to his conversion, he had been a catechist in the traditional local church (which blends Roman Catholicism with native Mayan customs including animal sacrifice and the drinking of posh – a strong alcoholic drink). On Easter Sunday, leaders of the villagr of Pastá noticed his absence from the celebrations at the traditional church and summoned him for questioning.
"They said, 'What do you mean that you've accepted Christ Рyou mean you don't believe in our gods [Catholic saints]?'" Juan commented. "And I said, 'Well, those were just apostles, and now I belong to Christ.'"
The village leaders threatened to jail Juan, and the following day they summoned him again after consulting with villagers, including other catechists. Juan verified to them that he had heard the gospel in another community and now wanted to become part of an Alas de Aguila (Eagle'Äôs Wings) church in Pastá, he said.
The officials threatened to strip him and throw cold water on him in jail, Juan said. 'ÄúYou know what else we'Äôre going to do?'Äù one of them told the father of three pre-school children. 'ÄúWe'Äôre going to beat you. We'Äôre going to hit you.'Äù After questioning Pastá Alas de Aguila pastor Jose Gomez Hernandez – confirming that Juan planned to attend his church, though he had not yet had the opportunity to do so – village officials decided to instead jail the new Christian.
Members of the Alas de Aguila church were allowed to visit him. He said he told one of them, "If I have to be a prisoner, I have no other alternative but to continue pressing forward." He added that his wife, who put her trust in Christ along with Juan, "despite this situation has been very happy, and in her faith she wants to press forward also." Juan was not hurt while in jail overnight and was released without further threats early the following morning.
Antonio Vasquez (another local pastor) said that in the municipality of Zinacatan, to which Pastá belongs, local traditionalist Catholic officials in some of the area'Äôs 46 communities prohibit any form of evangelization. 'ÄúThere are still areas where they do not permit the gospel.They don'Äôt want it, and they reject it to the point that there are some brothers who have been prisoners in other communities.'Äù This incident highlights the suffering of evangelical Christians in Chiapas over the past 40 years. While there are now evangelical churches in many areas of the state, there remain areas under the control of village leaders who refuse to accept the principle of religious freedom. (Compass Direct)
Share this