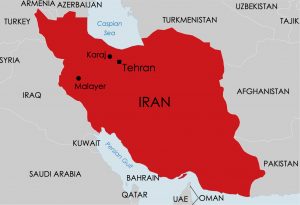 Revolutionary Guard intelligence agents arrested at least 17 Christians in coordinated raids in three Iranian cities (Tehran, Karaj and Malayer) on 30 June and 1 July. Dozens more Christians were ordered to provide their contact details and told they would be summoned for questioning soon.
At least ten of the arrested Christians have been charged with "acting against national security by promoting Zionist Christianity". Eight have been released on bail, four remain in detention, one has been released without charge and four have been released pending a decision on their case.
Families of the detained Christians have been making daily visits to Tehran's Evin Prison and the local courts to find out about their location and wellbeing, but most have not even been given the usual opportunity of short telephone calls with their loved one.
It is believed that an informant infiltrated the Christians' network and tipped off the authorities. Article 18 notes that the informant reportedly accompanied the intelligence agents in their raid on a Tehran house church and later stood next to the judge as he read out his bail demands.
Tehran arrests
At 8pm on the evening of 30 June, Revolutionary Guard agents raided a house-church meeting in the home of a Christian convert in western Tehran's Yaftabad district. The ten armed intelligence agents, eight men and two women, were initially respectful as they filmed the raid and separated men from women but reportedly became abusive when the cameras were switched off.
All thirty Christians present were taken down to the car park of the building where several cars and a van with blacked-out windows were waiting. An agent read out a list of names on an arrest warrant and six Christians present from the list were handcuffed, blindfolded and taken away. They were named as Joseph Shahbazian, an Armenian Christian, and converts Reza, Salar, Sonya and sisters Mina and Maryam.
Intelligence agents confiscated mobile phones belonging to all the other Christians, took their contact details, told them not to follow up on the confiscation of their phones for at least 72 hours and ordered them to write down that none of their property had been confiscated.
The agents then drove the six arrested Christians and some of those whose names were not on the list to their homes in Tehran and its sister city Karaj and searched for Bibles, other Christian literature and communications devices. Witnesses reported that some of the Christians and some of their non-Christian family members were beaten.
Members of One-Hearted Women Church among those arrested 
At least two Christians arrested in Tehran on 30 June are members of One-Hearted Women Church, a women's house church that has dozens of members. One of them, a convert named Somayeh Sadegh (36) – known by her fellow Christians as Sonya – is a sports coach who runs a women's gym in western Tehran. She was arrested in the raid in Yaftabad and taken to her father's house where Revolutionary Guard agents carried out a search and confiscated some of her belongings before transferring her to Evin Prison. She was temporarily released on bail on 9 July pending trial.
Agents raided and searched the home of another member of the One-Hearted Women Church, Malihe Nazari (46), in Tehran's Sadeghiyeh district and confiscated her computer, mobile phone and books before taking her away and telling her family she would be brought to Evin Prison. Malihe is married with sons aged 22 and 15, the elder of whom has reportedly suffered from cancer for the past two years. Two days after Malihe's arrest, she was able to call home briefly to say that she was OK.
Arrests in Karaj and Malayer
Intelligence agents also went to the Karaj homes of three more converts on the night of 30 June (Arash and two men called Farhad, who were named on the arrest warrant but not present at the Tehran gathering) and carried out searches and arrested them.
The same night in the city of Malayer, 400km southwest of Tehran, security agents called three converts named Sohrab, Ebrahim and Yasser and summoned them to report to the Revolutionary Guard intelligence office next day for questioning. The Christians were arrested early next morning, however, before they had a chance to attend, and were detained overnight until their release on bail on 2 July.
(Article 18/International Christian Concern/Middle East Concern/Mohabat News/Morning Star News/Release International/Religious Liberty Prayer Bulletin)
Share this