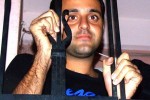 Ali Golchin, a Christian man who was arrested on 29 April, remains in prison without charge. His father was allowed a ten minute visit with him on 17 June and reported that his son cried throughtout the visit.
Ali has been held in solitary confinement since his arrest and has not been allowed to leave his cell even for a brief walk and some fresh air. Ali's father said that his son had lost a lot of weight and had been transferred to the prison clinic on two separate occasions suffering from severe stomach aches.
Sources inside and outside the prison have indicated that they believe that Ali has been subjected to systematic and harsh torture.
Christian human rights organisations think that the reason Ali has not yet been charged with any crimes is because the authorities have not been able to find any evidence of misconduct from this young man who has been raised in a Christian family. The charge of apostasy does not apply in his case. Also, under the current laws in Iran, it is not easy to charge and prosecute someone for mere possession of a Bible or Christian literature. It is feared that a charge of spying might be brought against Ali.
Ali's wife, a Christian who was formerly a Muslim, has been subjected to ongoing pressures and intimidations from Iranian security police and has been ordered not to attend any church service. She has been told very clearly that if she desires to pursue her husband's case with the governmental authorities she must return to Islam. (Farsi Christian News Network)
Church in Chains is currently seeking to schedule a meeting with the Iranian Ambassador to Ireland, Mr Ebrahim Rahimpour, and plans to raise Ali's case at this meeting.

Share this