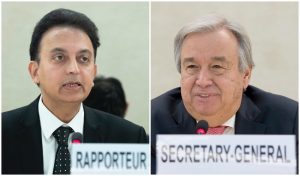 Church in Chains has joined seven other organisations –  Article 18, Crown Christian Heritage Trust, Middle East Concern, Prayer Pioneers, Steadfast Global, Stefanus Alliance and The World Evangelical Alliance – in appealing to the United Nations not to forget Iran's persecuted Christians in future reports about the human rights situation in the country.
In letters sent to the Special Rapporteur on Human Rights in Iran, Javaid Rehman (pictured left), and the Secretary-General of the UN, António Gutteres (pictured right), the organisations called for consistency in naming the main victims of FoRB violations in all reports and including specific references to Christians in the list of main victims of FoRB (Freedom of Religion or Belief) violations.
The signatories stated that neither report this year by Javaid Rehman or António Gutteres contained "a single reference to Iran's persecution of Christians, though both called more broadly for Iran to end discrimination against religious minorities".
Excerpts from the letters
The letter addressed to António Gutteres states: "We are also concerned that the report did not cover the changes earlier this year made to Articles 499 and 500 in Iran's Islamic Penal Code. The new provisions in these Articles pose serious risks to the rights to freedom of expression and freedom of religion and belief. Article 500 launches a full-on attack on the right to freedom of religion and belief. While the new provisions impose a threat to anyone who refuses to subscribe to state-sanctioned beliefs and ideologies, they will disproportionately impact individuals belonging to religious and faith-based minorities and ethnic groups." 
The letter to Javaid Rehman states: "There are numerous communities in Iran who face FoRB violations, including Baha'is, Christians, followers of Erfan-e-Halgheh (Inter-Universalism), Jews, Mandaeans, the non-religious, Sufi Muslims such as Gonabadi Dervishes, Sunni Muslims, Yarsanis, and Zoroastrians. We respectfully request that in future reports and letters as Special Rapporteur on Iran, you continue to consistently raise the issue of freedom of religion and belief, and that you include specific reference to the main victims of FoRB violations."
Click here to read the full text of both letters.
(Article 18)
Share this