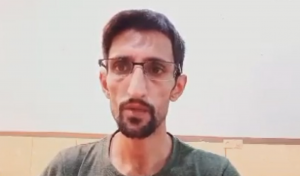 On 8 February, Ebrahim Firouzi was arrested and detained in Chabahar prison in southeast Iran. He had been summoned to court after releasing a series of six videos detailing harassment by Iranian intelligence services (MOIS).
In the videos, published by Switzerland-based activist Milad Baharian on 6 February, Ebrahim describes the harassment of his non-Christian brother, the continued confiscation of his property and the realisation that one of his "friends" was actually an MOIS informant.
The next day, the 34-year-old Christian, who has spent the last 15 months in internal exile in the remote southeastern city of Rask, received a summons to  report to the prosecutor's office in Sarbaz, the regional capital, within five days. In response Ebrahim sent a message to friends saying, "I ask Christians to pray not for my acquittal but for the great name of God to be glorified, for which I will be in the court tomorrow."
Ebrahim already spent more than six years in prison on various charges relating to his Christian activities, including "launching and directing evangelism, running a Christian website, actions against national security" and "being present at an illegal gathering". In September 2020, fresh charges that had been brought against Ebrahim were rejected through lack of evidence and he was told his case had been closed. However, he continued to suffer harassment in exile and when he discovered that his case was still open, he decided to publicly address his grievances in the video series.
Videos detail harassment
In one of the videos, he describes the events leading up to his last summons, in September 2020, which came after he received an unexpected package containing some Bibles.
"It appears the Ministry of Intelligence had asked the post office to inform them before I received this package so that they could be there," he says. "When I went to pick it up, the intelligence agents were waiting for me. Then they came to my house in a police car, without a warrant or any official charge, and confiscated my laptops, mobile phones, and textbooks I needed for my online theology lessons, even though these books had been published with the permission of the Ministry of Guidance.
"They also wanted to confiscate some of my Bibles, but I didn't let them, explaining I had been recognised as a Christian by the judiciary, and saying, 'You have entered the house of a Christian, and I have the right to have a Bible'."
Ebrahim adds that he is still awaiting the return of his property, despite frequent requests.
Ebrahim says the case against him could lead to another three years in prison. Despite this prospect he says, "I am not afraid of being sent back to prison for telling the truth… My prayer is that the authorities pursue true justice… The Iranian Church has never sought war with the government. We are believers in Jesus Christ the Lord and, according to the message of the Bible, we want to live a quiet and lawful life… The power of Christ's love for us is such that no power can distract us from what we believe. They may be able to hurt us [physically], but they can't do damage to our souls."
 (Article 18, Middle East Concern)
Share this