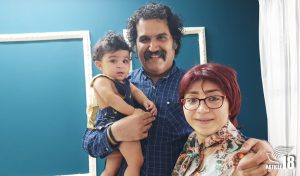 A court has ruled that the adopted daughter of Christian couple Sam Khosravi and Maryam Falahi, both converts from Islam, must be taken from them as they are "not fit" to be her parents. Sam and Maryam, from Bushehr in southwest Iran, adopted Lydia from an orphanage as a three-month old baby in February 2019. While her parentage is not known, the judge ruled that she is considered a Muslim and as such by law ought only to be cared for by Muslim parents. The ruling, which was handed down by a court in Bushehr on 19 July but only recently reported, was upheld by a court of appeal on 22 September.
Judge Muhammad Hassan Dashti made his initial verdict despite acknowledging that Lydia felt an "intense emotional attachment" to her adoptive parents and that "considering the health of the child and her illness, there is zero possibility of giving her away to another family. If the child returns, it is possible that she would be forever under the protection of the Welfare Department."
Lydia suffers suffers from heart and gastrointestinal diseases and Welfare and Forensic Medicine Supervisors have confirmed that Sam and Maryam, a nurse at Bushehr Heart Hospital for many years, have provided the best care for her.
Judge Dashti appeared sympathetic, noting that Sam and Maryam adopted Lydia because "in 13 years of marriage, [they] didn't have a child to bring light and warmth to their home" but said that Lydia should never have been placed in their care. Sam and Maryam say they were always clear about their conversion to Christianity.
Article 18's advocacy director Mansour Borji says the judge's wording indicates that his hands were tied. "The verdict clearly demonstrates the unwillingness of the judge to hand down this sentence," he said, "and that he was coerced by the representative of the Ministry of Intelligence. It is another clear example of the lack of independence of the judiciary in cases involving Christians."
Appeal
In seeking to overturn the verdict, the couple's lawyer managed to obtain two fatwas from Grand Ayatollahs – the most senior Shia Islamic authorities in Iran – declaring that due to Lydia's poor health and emotional attachment with her parents her adoption by Christian converts is "permissible".
Grand Ayatollah Naser Makarem Shirazi issued a fatwa that due to "necessity" the child may stay in the family and that Sam and Maryam's adoption is "permissible".
Grand Ayatollah Yousef Saanei issued a fatwa that "being a non-Muslim does not prevent them, and choosing a religion for the child should be done after puberty. The issuance of this sentence is not only contrary to international law, but also to Iranian law."
However, the appeal court judges made no reference to the fatwas and said they were upholding the ruling as they had not been presented with any "specific or reasonable evidence" to overturn it. It is now expected that Iran's State and Welfare Organisation will remove Lydia from Sam and Maryam's care and return her to the orphanage.
Arrested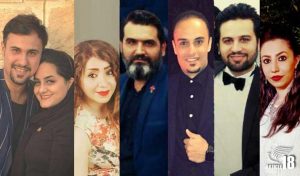 Sam and Maryam are currently appealing convictions related to their membership of a house church. They were among seven Christian converts arrested in coordinated raids on their homes on 1 July 2019, including Sam's brother Sasan Khosravi and his wife Marjan Falahi, who is Maryam's sister. (Pictured, from left: Pooriya Peyma, Fatemeh Talebi, Maryam Falahi, Sam Khosravi, Habib Heydari, Sasan Khosravi, Marjan Falahi.)
The seven Christians were released on bail after two weeks but were convicted of "membership of an illegal organisation" following a hearing on 20 April 2020. They were sentenced in June, the four men receiving custodial sentences while the three women received fines and work restrictions.
Sam was sentenced to one year in prison followed by two years' internal exile, which includes a ban on working in his profession, the hospitality sector, during exile. Maryam was fined and given a lifetime ban on working for any national institution, including the hospital where she has worked for over twenty years.
(Article 18, Middle East Concern, Mohabat News)
Share this