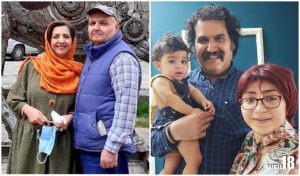 Iran's Supreme Court is considering the retrial petitions for two high-profile cases involving Christian converts, which have attracted international attention.
The first concerns prison sentences given to Sara Ahmadi (43) and her husband Homayoun Zhaveh (62, who has advanced Parkinson's disease) for belonging to a house-church. They were summoned to Tehran's Evin Prison in March to begin serving sentences of eight and two years respectively, for leadership and membership of a house church. Their appeals were rejected in December, although Sara's sentence was reduced from eleven to eight years, and their lawyer applied for a retrial.
The second case concerns the ruling of a court in Bushehr in July 2020 that Sam Khosravi and Maryam Falahi's two-year-old adopted daughter Lydia be removed from their care because they are Christian converts and she is considered Muslim. Sam and Maryam adopted Lydia from an orphanage as a three-month-old baby in February 2019, and she could be taken away any day.
The 2020 ruling was handed down despite the judge acknowledging that Lydia feels an "intense emotional attachment" to them and that there is "zero chance" of finding another adoptive family, given Lydia's chronic health problems.
The ruling was upheld by a court of appeal in September, and in October more than 120 lawyers and activists wrote an open letter to the head of the judiciary calling for the Bushehr court to overturn the ruling, which they say goes against both national and international law. The judiciary has not yet responded to this request.
Reaction
Iranian rights lawyer Hossein Ahmadiniaz told Article 18: "Considering that these cases are considered 'security' cases, and therefore the Ministry of Intelligence oversees them, of course this illegal practice undermines the principle of judicial independence and undermines a fair and just trial. However, if the judges act with honour, there is still the possibility they may accept the retrials and overturn the verdicts."
Article 18's advocacy director Mansour Borji commented, "Just to know that the highest court in the land now has the power to rule in these cases is something to be thankful for, because even should the Supreme Court reject these cases – either now, or following a retrial – it would mean the Iranian regime would be forced to take responsibility for these unjust verdicts, and therefore leave them with no leg to stand on if they continue to claim that Christians enjoy equal rights and that no-one is persecuted on account of their beliefs in Iran."
(Article 18)
Share this