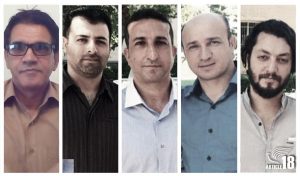 Four Christian prisoners being held in crowded conditions in Evin prison in Tehran are feared to be suffering from Covid-19 following an outbreak of the virus in the prison.
Yasser Mossayebzadeh (far right of picture) was one of twelve prisoners in Ward 8 in Evin Prison (which houses mainly religious and political prisoners) to test positive on 10 August during a random test of seventeen prisoners.  About sixty prisoners are held in the ward.
Fellow-Christian prisoners of conscience Saheb Fadaie, Youcef Nadarkhani, and Naser Navard Gol-Tapeh were not among those tested, but each has been displaying symptoms.
Naser's friends and family are particularly concerned about him as he recently turned 59 years old and remains in his crowded cell despite being laid low with fever for nearly a week. The only medical assistance he has received is a few painkillers.
A fifth Christian prisoner in Ward 8, Mohammadreza Omidi, has so far shown no symptoms.
Prison authorities have failed to isolate the twelve prisoners in Ward 8 who tested positive for the virus and have not arranged any medical treatment.
"The Iranian authorities are condemning these individuals to Covid-19 and possible death"
"By keeping political prisoners in overcrowded and unsanitary prisons where they are denied medical care and are not separated from ill prisoners, the Iranian authorities are condemning these individuals to Covid-19 and possible death," said Hadi Ghaemi of the Center for Human Rights in Iran (CHRI).
CHRI has called for the immediate release of all prisoners testing positive for Covid-19, all those displaying any symptoms, and all those who have come into contact with any ill individuals and has also appealed that each receives immediate medical care.
Monir Abdi, the wife of the teachers' rights activist Esmail Abdi, who also tested positive for the virus, stated that prisoners began to display symptoms several days before they were tested.
She added: "The symptoms began two weeks ago, including loss of the sense of smell and taste, heartburn and severe coughing. Some had a fever, too. The infected prisoners have not been given any particular medications. Only their temperature is being monitored.
"My husband has body aches and breathing difficulties. He has a pre-existing condition and uses an asthma spray. He has also been prescribed blood pressure medicine. He has become very weak and we are very worried about his food intake.
"We want him to be granted furlough or be taken to the hospital. We prefer furlough because the hospitals are full. It's a dangerous situation. Let him come home; we will keep him in quarantine and take care of him." 
On 11 August, prominent human rights lawyer Nasrin Sotoudeh who is also held in Evin prison began a hunger strike to demand the release of political prisoners threatened by the Covid-19 virus.
(Article 18, Center for Human Rights in Iran)
Church in Chains has written to the Iranian Ambassador to Ireland, appealing for the furlough of all prisoners of conscience from Ward 8 of Evin prison.
Share this