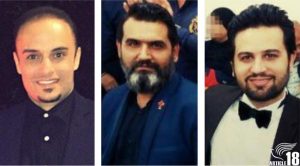 On 27 January, the 4th Branch of Bushehr Court of Appeal upheld the one-year prison sentences of Habib Heydari and brothers Sam and Sasan Khosravi (pictured, from left), who were among seven Christian converts from Bushehr arrested in July 2019 and convicted of "propaganda against the state through promoting Christianity".
The appeal verdict, pronounced by Judge Hedayat Rahavi, stated that "based on the evidence against the appellants in the initial court, they are guilty of organisation of house-churches and promotion of Christianity, which are clear examples of propaganda against the state".
Sam and Sasan Khosravi, their wives Maryam and Marjan Falahi (who are sisters), Habib Heydari, Pooriya Peyma and his wife Fatemeh Talebi were arrested in coordinated raids on their homes in Bushehr in southwest Iran in July 2019 and in June 2020 they were given a variety of sentences including prison terms, fines, work restrictions and internal exile. Only the men were given custodial sentences – one year for Habib, Sam and Sasan; 91 days for Pooriya – and only Habib, Sam and Sasan appealed.
The three Christians expect to be summoned to prison soon to begin serving their sentences, and Sam and Sasan also face two years in internal exile following their release from prison and a ban on working in their profession, the hospitality sector, during exile.
Sam and Maryam's adopted daughter to be removed
Sam and Maryam, meanwhile, are fighting for custody of their daughter Lydia, adopted from an orphanage as a three-month old baby in February 2019.
In July 2020, a court ruled that Lydia be removed from their care, stating that as Christians Sam and Maryam are "not fit" to be her parents because she is considered Muslim. The judge pronounced the ruling despite acknowledging that Lydia feels an "intense emotional attachment" to them and that there is "zero chance" of finding another adoptive family, given her chronic health problems. The ruling was upheld by a court of appeal in September.
The other Christians involved in the Bushehr case also have young children: Sasan has a four-year-old son and five-month-old daughter; Pooriya has a five-month-old son; and Habib's wife is pregnant.
New Iran Report
On 2 February 2021, a joint report on Iran was published by Article 18, Christian Solidarity Worldwide, Middle East Concern and Open Doors. Annual Report 2020 documents the persecution of Christians in Iran during the period and includes details of 15 Christians being held in Evin prison by the end of the year on account of their faith. The report states that 115 Iranian Christians were arrested in 2020 and describes the harassment and discrimination suffered by many others.
(Article 18, Middle East Concern)
Share this