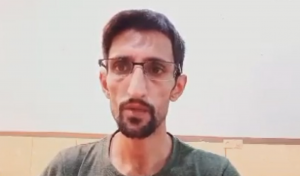 Christian convert Ebrahim Firouzi has ended his hunger strike after receiving assurances that he will soon be released and the case against him dismissed. Article 18 reports that his decision followed a visit by two intelligence agents who assured him his case would be "dealt with". He had announced that he would not eat anything from 13 February until the latest charges against him were dropped.
Ebrahim is in his sixteenth month of internal exile in Rask in southeast Iran, following over six years in prison. On 8 February, he was arrested and taken to Chabahar Prison after being summoned to answer new charges of "insulting the sacred" (blasphemy) and  "propaganda against the Islamic Republic in favour of hostile groups". The charges followed the release of six videos in which Ebrahim protested about the continued violation of his rights.
In one of the videos, Ebrahim explained that he chose to publicise his grievances because he had recently been informed that his case was still open, although previously a prosecutor had told him it was closed. "I decided to release these videos so the truth would be known," he said. "I have said many times that if I am accused of something, bring me to the court, and, if not, declare my case closed."
Ebrahim received the summons on 7 February, the day after the last of the six videos was released, and was told he must report to the prosecutor's office in Sarbaz, a journey of about an hour and a half from Rask, within five days. He attended the next day and was sent directly to Chabahar Prison, 250 km south of Sarbaz. He was offered temporary release on bail but refused, saying he would rather stay in prison and fight the charges against him.
Article 18's sources report that Ebrahim has been transferred to a prison in Zahedan, around 650 km north of Chabahar, and is due to be released by the end of the week.
Previous hunger strikes
Ebrahim previously went on hunger strike several times to protest about conditions in Rajai-Shahr prison in Karaj, a maximum-security prison housing violent criminals and terrorists.
In June 2015, he went on hunger strike to protest against being held in a ward of dangerous criminals, which is against Iranian laws for separation of convicts, and to demand a transfer to a ward for political prisoners and prisoners of conscience. He ended his hunger strike five days later, after the authorities promised a partial improvement in his situation.
In July 2017, Ebrahim declared a ten-day hunger strike in protest at the judicial authorities' actions against Christians, notably handing down long prison sentences, and the refusal to allow Christian prisoners access to Christian literature. Following this hunger strike, the prison authorities transferred Ebrahim and about twenty other prisoners to a high-security section of the prison with very few facilities and confiscated Ebrahim's personal items. He went on hunger strike again to protest these new conditions and ended it after forty days, during which his physical condition deteriorated significantly. The authorities had taken no action in relation to his protest.
(Article 18, Church in Chains Prisoner Profile)
Share this