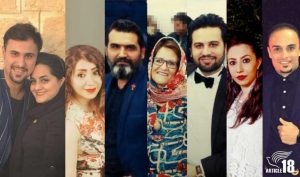 On 1 July, agents of the Ministry of Intelligence and Security arrested eight converts to Christianity in the Persian Gulf city of Bushehr in southwest Iran. They included five members of one family: Khatoon Fatolahzadeh (61), her sons Sam Khosravi (36) and Sasan Khosravi (35) and their wives Maryam Falahi (35) and Marjan Falahi (33). Pooriya Peyma (27), his wife Fatemeh Talebi (27) and Habib Heydari (38) were also arrested.
UPDATE: The Christians were released on bail on 16 and 17 July. They have been charged with "actions against national security", "gathering and collusion against the state", and "membership of an illegal organisation" (a house church), the maximum sentences for which are 15 years in prison. During their imprisonment, they were coerced to confess to their "crimes" on camera.
(The eight Christians are pictured, left to right: Pooriya Peyma, Fatemeh Talebi, Maryam Falahi, Sam Khosravi, Khatoon Fatolahzadeh, Sasan Khosravi, Marjan Falahi, and Habib Heydari.)
The agents raided the Christians' homes in a coordinated operation at about 9am and confiscated Bibles, Christian literature and pictures, wooden crosses, laptops, phones, identity cards, bank cards and other personal belongings. They treated the Christians harshly, even though young children were present during the raids.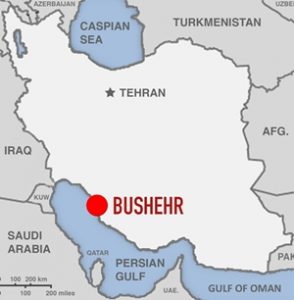 The agents also searched at least two Christians' offices and confiscated computer hard drives and security camera recordings, although it is unclear if these Christians were part of the arrested group.
Khatoon Fatolahzadeh, who was arrested after security officials in six cars arrived at her home, was released the same day due to her age. The other Christians are being held in solitary confinement in the Ministry of Intelligence and Security office in Bushehr and denied access to lawyers. Some of their associates have been summoned for interrogation and then released.
Also in Bushehr, in March 2019, 16 other Christian converts lost their appeals against prison sentences for "propaganda activities against the regime through the formation of house churches". Mostly members of the Assemblies of God denomination, they had been arrested in April 2015 and are facing prison sentences of between five months and a year.
Arrests in 2019
According to Article 18, a London-based NGO that raises awareness of and advocates for persecuted Iranian Christians, at least 37 Christians have been arrested in Iran this year: nine in Bushehr, nine in Rasht, twelve in Amol, two each in Ahvaz and Tehran and one each in Hamedan, Shiraz and Isfahan.
Speaking in London on 2 July, the UN's Special Rapporteur on Human Rights in Iran, Javaid Rahman, described the treatment of Christian converts in Iran as "very disturbing". He said it is something he is "personally concerned about" and promised to "look into the issue very seriously".
Five Christians begin prison sentences in Karaj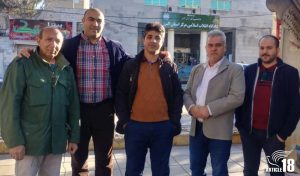 Elsewhere in Iran, on 5 July a group of five Christian converts attended the Central Prison of Karaj, near Tehran, to begin serving their jail sentences for "propaganda against the state". Four of them had to leave behind young children.
Yaghoob Nateghi, Milad Goodarzi, Amin Khaki, Alireza Nourmohamadi and Shahebedin Shahi (pictured, from left) – all members of the non-Trinitarian Church of Iran – were arrested during raids on their homes and workplaces in December 2017. The men were taken to an unknown location for interrogation, but were permitted to inform their families of their well-being.
By early 2018, they had all been released on bail. In November 2018, the five Christians were summoned to court to face charges of "acting against national security". However, the judge rejected their defence lawyer and the hearing was postponed.
In March 2019, Milad, Yaghoob, Shahebedin and Alireza were given four-month prison sentences for "propaganda against the regime". Amin was given a 14-month sentence for "propaganda against the regime and establishing house churches".
On 11 June, their sentences were upheld in the appeal court. They were informed by text message that on 5 July they should present themselves at the prison.
Amin Khaki has already spent a year in prison for his religious activities. He was first arrested in May 2010, charged with "anti-government activity" and given a one-year suspended sentence that was eventually suspended for five years. In March 2014, he was again arrested and detained while attending a picnic with other Christians near Shoush. In October 2015, he was sentenced to one year in prison (including time already served) for "action against national security". He was released in July 2016.
(Article 18/Middle East Concern/Mohabat News)
Share this