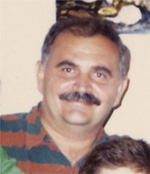 Concern is growing among Iran's evangelical community for the safety of a pastor arrested four weeks ago by the Iranian security police.

Iranian authorities have refused to give any reason for the arrest and prolonged detention of Hamid Pourmand, 47, a lay pastor in the Assemblies of God Church. No one has been allowed contact with Pourmand since September 9, when he was arrested along with 85 other evangelical church leaders.

Hamid, who is a colonel in the Iranian army, was allowed one very short telephone call to his wife in late September. Without saying where he was or giving any other details, he simply told her that he was all right.

Of the other Christians detained with Hamid, 76 were released by nightfall the day of their arrest. Ten pastors were kept for interrogations for three more days, after which Hamid's nine colleagues were released conditionally. The freed pastors were warned that they should expect to be summoned again within a few weeks for more questioning.

But authorities have remained tight-lipped about Hamid, a former Muslim serving as the volunteer pastor of a congregation in Bandar-i Bushehr. Famous as the site of Iran's first nuclear reactor, the port city is located 240 miles south of Tehran along the Persian gulf.

At the time of Hamid's arrest, his Assyrian Christian wife and two young children were visiting relatives in Tehran. When the family returned to Bushehr, they discovered that their home had been broken into and ransacked, with all of the family's papers, documents and photographs removed.

"His relatives fear for his life," one source admitted, particularly if the secret police transfer him to the jurisdiction of a military court.

After converting to Christianity nearly 25 years ago, Pourmand had continued to serve as an officer in the Iranian army, despite laws instituted after the Islamic revolution to prohibit non-Muslims from holding officer rank. "Hamid did not keep his conversion secret," one of his friends told Compass. "But he is an honest man, and people liked and respected him."

Apostasy is listed along with murder, armed robbery, rape and serious drug trafficking as a capital offense in Iran. (Compass)

CCFC has written to Mr. Sayed Hossein Mirfakhar (Iranian Ambassador to Ireland) calling for Hamid's immediate release.
Share this