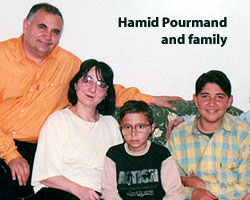 Hamid Pourmand, a lay pastor who became a Christian 25 years ago, faces execution by hanging under Iranian law for leaving Islam to follow Jesus. He has a wife, Arlet, from Assyrian Christian background, and two teenage sons, Immanuel and David (pictured right).
Over the two weeks, Hamid was brought to court every two or three days for hearings varying from one to two hours in length. Although the pastor is allowed a defence lawyer and his family are permitted to attend the trial, the Islamic shariah court has not always informed his family of each scheduled hearing.
"His wife and children are very worried," a source close to the family reported, "because nobody knows what the court decision will be. He is still refusing to deny Christ, so if the shariah court follows strict Islamic law, they must execute him."
But recently, government officials reportedly stated that Iranian citizens who had changed their religion before the 1979 Islamic revolution would not be prosecuted by the authorities.
Despite the attempted secrecy inside Iran over Hamid's imprisonment, news about his apostasy case has circulated widely since his military court conviction on 16 February. The pastor was convicted of 'deceiving' the armed forces about his faith, although he had presented written evidence that his superiors were fully aware of his conversion to Christianity.
"Now almost all Iranians know about Hamid's case, because it is being reported on many Farsi radio stations and television networks, and over the Internet," an Iranian Christian said.
A former colonel in the Iranian army, Hamid was serving as a lay pastor in the Assemblies of God church in the southern port city of Bandar-i Bushehr when arrested by the Iranian secret police last September.
Hamid, 47, was kept in isolation for the next five months, most of the time in total darkness. He was repeatedly shown execution blocks within the prison by his jailors, who told him he would be hanged there soon if he did not recant his Christian faith and return to Islam.
In attempting to wear Hamid down emotionally and force him to deny his faith, his jailors lied to him repeatedly, claiming his wife and sons were also under arrest and being mistreated because of him.
Since his February conviction by a military tribunal, Hamid has been imprisoned in a group cell at Tehran's maximum-security Evin Prison with a number of well-known political dissidents. The military verdict is on appeal before the Iranian Supreme Court.(Open Doors)
Share this