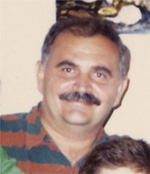 Pastor Hamid Pourmand, who is currently serving a three year sentence at Evin Prison in Tehran, must soon appear before the Islamic court to answer charges of apostasy and attempting to spread the Christian faith. If found guilty, Brother Pourmand could face the death sentence.
Hamid, aged 47, is a man of integrity who is deeply committed to Christ. He is married to an Assyrian Christian, Arlet, and they have two children, David and Emmanuel. For over 20 years he has served as an officer in the Iraniannavy and he has always acknowledged that he is a Christian. As an older member of the small church in Bushehr, he has also served there as a lay pastor.
In September last year, Hamid joined over 80 other leaders from the Assemblies of God denomination in Iran for their annual church meeting near Tehran. In the middle of these meetings government officials arrived and arrested all the participants. The Christians were held for two days for intense questioning and then all were released – except Hamid.
The officials explained they needed to detain Hamid for longer because of his military background, but assured the other church leaders that they would not keep him for long. Hamid has not been a free man since being arrested on 9th September, 2004.
Since then Hamid has been held without charge, but in February he was brought before the courts and accused of hiding the fact he was a Christian while serving as an officer in the Iranian navy. Hamid denied this charge and presented evidence that it was not true.
The court rejected this evidence and sentenced Hamid to three years imprisonment. He was also dismissed from the navy, and so has lost his accommodation, his salary, and his pension.
There has always been concern that Hamid would also be called before the Islamic Shari'a court and it is reported that he must appear before the Islamic Court between April 11th and 14th to answer charges of apostasy and trying to spread the Christian faith.
Pastor Hamid Pourmand was loved and respected by his superiors. Though they knew that he had become a Christian they respected him and gave him numerous awards and letters of recommendation. He is a humble, loving, a true servant-leader. He has stood firmly on his faith and is ready to pay any price. (Information from Elam Ministries)
CCFC has appealed to government leaders in Iran (Ayatollah Khamenei and President Mohammed Khatami) to intervene in the case and to release Hamid – in accordance with constitutional guarantees of freedom of religion.
Share this