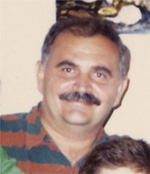 In the last week of January, Hamid Pourmand finally appeared in court in Tehran. Hamid had been held incommunicado since September when he was among 80 men Christian leaders arrested at a conference – the other leaders were released within days of the police raid.
Hamid converted from Islam to Christianity 25 years ago (which was well known to his acquaintances) but continued to serve as an officer in the Iranian Army. At his trial in a military court, he was charged with deceiving the Iranian armed forces about his religion. It is expected that Hamid will now be forcibly discharged from the Iranian army and will also face trial on two separate charges of apostasy and proselytising.
Relatives of the jailed pastor said that Hamid's wife was allowed to see him on the day of his military court martial, held during the last week of January.
An Assyrian Christian, his wife was also given court permission to visit him yesterday at the military prison where he has been jailed in Tehran for the past three months. Her only previous contact had been a very short telephone call from her husband in late September, some three weeks after his arrest, to assure her that he was "all right."
Together with his wife and two children, Hamid was living in Bandar-i Bushehr, a port city on the Persian Gulf in southern Iran. In addition to his military duties as a colonel in the army, he was the volunteer lay pastor of a small Assemblies of God congregation in the city.
"Either he will be forced to return to Islam," one Iranian Christian source noted, "or he will face a very big problem now." (Compass)
CCFC has written to Mr. Sayed Hossein Mirfakhar (Iranian Ambassador to Ireland) calling for Hamid's immediate release.
Share this