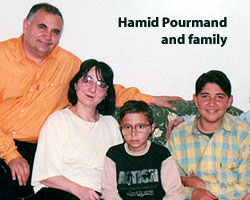 Iranian Christian Hamid Pourmand left Tehran's Evin Prison by armored car yesterday, en route to his home city of Bandar-i Bushehr to stand trial for his life before a sharia (Islamic ) court.
Although some of Hamid's relatives were allowed to see him briefly before his departure from Tehran, the Christian prisoner was not permitted to speak with them. Gazing at them silently, he mouthed the words, "Please pray for me."
A former Muslim who converted to Christianity 25 years ago, Hamid faces execution by hanging under Iranian law for apostasy and proselytizing. According to his defense lawyer, Hamid's trial before a sharia court is not expected to begin before next Saturday, May 21, at the earliest. Sources were unable to confirm which of several prisons Hamid would be placed in when he arrived in Bandar-i Bushehr today.
Hamid, 47, was arrested last September by the Iranian security police while attending a church conference near Tehran. Although a colonel in the Iranian army, he was also serving as lay pastor of an Assemblies of God congregation in Bandar-i Bushehr, the southern port city where he was living with his family.
During five months of interrogation in strict solitary confinement, Hamid lost nearly three stone. When produced before a military court, he was accused of "deceiving the Iranian armed forces" about his conversion to Christianity. Although he produced written evidence that his army superiors were fully aware of his Christian faith, he was found guilty of the charges, dishonorably discharged from the army and sentenced to three years in prison.
After news leaked out in April that his initial apostasy hearings had begun before an Islamic court in Tehran, the secretive proceedings were quickly shelved. Instead, officials informed his lawyer in late April that Hamid would at some point be transferred back to Bandar-i Bushehr for his sharia trial proceedings.
During a lunch meeting in The Hague between Iranian Foreign Minister Kamal Kharrazi and his Dutch counterpart Bernard Bot on April 29, the Iranian authorities were reportedly reminded "specifically and at length" that the Dutch Parliament was following Hamid's case closely.
The European Union registered a formal protest with Iranian authorities last November over Pourmand's arrest, describing his incarceration and trial as an "infringement of the freedom of religion or belief."
Hamidd and his wife Arlet, who is from Assyrian Christian background, have two teenage sons, Immanuel and David.(Compass)
Share this