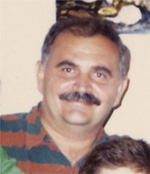 On 16 February, a Tehran military court sentenced Pastor Hamid Pourmand to jail for three years, ordering his immediate transfer to a group prison cell in Tehran's notorious Evin Prison. Hamid, a lay Assemblies of God pastor, was arrested last September while attending a church leaders conference.
Hamid was convicted of of deceiving the armed forces by not declaring that he was a convert from Islam to Christianity – despite documents which showed that he had been excused (as a non-Muslim) from observing the Ramadan fast.
The three-year verdict represented the maximum penalty for Hamid's alleged offense. It has not been clarified whether his jail term begins from the date of the verdict, or from his original arrest last September. He had been held under incommunicado arrest in an isolation cell for the previous five months.
As a consequence of the verdict, Hamid forfeits his entire income, pension and housing for his family. "His family (wife and two young children) has nothing now," a source confirmed.
A lawyer acting on behalf of Hamid's family said he will appeal the verdict to the Supreme Court. He also hopes to block efforts to put Hamid on trial before a sharia court of Islamic law, where under charges of apostasy and proselytizing he could be sentenced to death. (Compass)
Share this