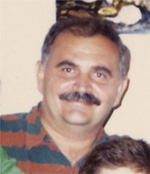 Iranian authorities moved Christian prisoner Hamid Pourmand to a military prison two weeks ago, deepening fears throughout the evangelical community for his safety.
Hamid was arrested, with 80 others, when police broke up the annual conference of Assemblies of God pastors in Iran. Hamid was serving as lay pastor of a congregation in Bandar-i Bushehr, a port city on the Persian Gulf in southern Iran.
Most of the detainees were released by the end of the day, although Hamid and nine other pastors were held for four days of interrogation before the others were set free.
Although Hamid was allowed one short telephone call to his wife three weeks after his arrest, security police have since refused to permit him any other contact with his family or friends.
Local sources have confirmed that Hamid was told in late October that he would be released within just a few days. But instead, he was transferred to a military jail. No known charges have been filed against Hamid, a former Muslim who converted to Christianity nearly 25 years ago. Married with two children, he is a colonel in the Iranian army. (Compass)
Share this