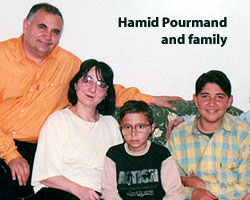 Iranian authorities abandoned preliminary hearings against Christian convert Hamid Pourmand before an Islamic sharia court in Tehran in late April, apparently after news of his trial leaked out to the international press.
Less than two weeks after secretive court proceedings began, Hamid was told that he was to be moved from Tehran's Evin Prison to his home city of Bandar-i Bushehr to stand trial for his life.
No indication was given as to when Hamid would be transferred or when he would actually go on trial, facing the death penalty under the Islamic regime's laws forbidding apostasy and proselytising.
Hamid, 47, was arrested by the Iranian security police last September and was sentenced to three years in prison in February Рfor "deceiving the Army about his conversion". Judges dismissed written evidence produced by Hamid.
Although court orders were issued immediately to evict his family from their army housing, local authorities have postponed the eviction of his wife and two teenage sons until the end of the current school term.
"Hamid's wife and sons feel very alone now. They are isolated, without any source of income, and no place to go when summer comes." Reportedly, local church leaders are under such government pressure that they do not dare to have any contact with the family. (Compass)
Share this