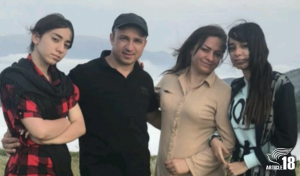 On 14 September, Mohammadreza Omidi (47), also known as Youhan, travelled south to begin his internal exile in the city of Borazjan, more than 1,000 km from his home in Rasht in northern Iran. He left behind his wife Maryam and their teenage daughters Sara and Sandra (pictured), with whom he had been reunited following his release from prison on 18 August.
Mohammadreza had been sentenced to two years in exile following his two-year sentence, but this has been reduced by three months to 21 months due to extra time he spent in prison.
Mohammadreza, a convert from Islam, is a member of the Church of Iran house church network in Rasht, capital of Gilan province and was arrested in May 2016 along with several other Christian converts including Pastor Youcef Nadarkhani. Two years after his arrest, Mohammadreza was convicted of "acting against national security by propagating house churches and promoting Zionist Christianity" and in July 2018 police officers arrested him at his home and took him to Evin prison to begin serving his sentence.
Mohammadreza travelled to Borazjan by bus, at his own expense, and will have to cover all his expenses in exile. He does not yet know what he will do in Borazjan, nor whether it would be a suitable place to move his wife and daughters (both still at school) as it has a much harsher climate than his family home near the Caspian Sea. However, he told a close friend, "I trust God in this, as I did for my imprisonment. Many people, even those around me, consider it a time wasted in your life. But seeing ourselves as a piece of the puzzle in the greater image God is creating, I gladly embrace this opportunity to go through this exile. My experience may help other Christians who will face similar exile sentences in the future."
Watch a short video of Omidi arriving home after his release from prison.
(Article 18)
Share this