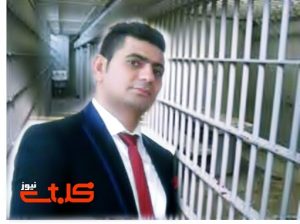 The Iranian security authorities have detained and interrogated several Christian converts in recent weeks, at least four in the south-western city of Dezful in Khuzestan province and a married couple in Tehran.
On 21 October, the security authorities arrested Abdol-Ali Pourmand (38, pictured) in Dezful, where he is one of the ministers of the Payam-e Aramesh (Message of Peace) house church. Two days before his arrest, plain-clothes security authorities raided his home while he was working on his farm, searched the house thoroughly in his absence and confiscated Bibles, notebooks and Christian CDs. Later, he received a call from the Ministry of Intelligence summoning him to its office in Dezful. He went to the office and was arrested and later transferred to detention in the city of Ahwaz, the provincial capital, 150km south of Dezful.
Three days after his arrest, Pourmand was allowed to make a short phone call to his bride of two months, saying he had been told he would be released soon. However, the family of another recently-arrested convert, Mohammed Ali Torabi, received similar news and he has not been released.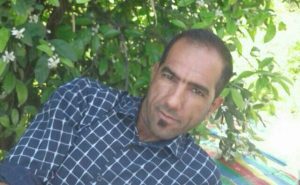 Mohammed Ali Torabi (39, pictured) was arrested on 10 October at his workplace in Dezful. The authorities took him to his house, where they confiscated all his Christian materials, including Bibles and textbooks, and transferred him to an undisclosed location belonging to the Ministry of Information in Ahwaz. Later that day, Ministry of Intelligence authorities called his family and said he had been put under temporary arrest and would be released in five days, once his interrogation was over. However, his detention has been extended for unknown reasons. Torabi is a leader in the Payam-e Aramesh house church in Dezful, and sources close to his family say his arrest is due to his activities in promoting Christianity.
His family was not told his whereabouts and the judicial authorities did not provide information regarding the charges against him. Mohabat News reports that it is believed he is being held in an old military barracks in the Chahar Shir area, which connects to the local airport. This facility belongs to the intelligence forces of the Sepah (Revolutionary Guard) and it is thought that other detainees have also been put in its solitary cells. Due to security fears, Torabi's family was unable to find a lawyer in Dezful willing to accept his case and had to travel to Ahwaz to retain one.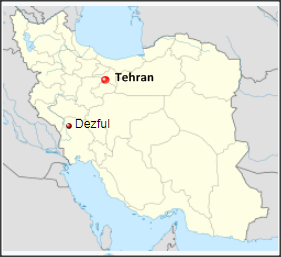 Two other Christian converts were detained in Dezful at the same time as Torabi but were conditionally released later the same day, after spending hours under interrogation. Mohabat News reports that the four Christians detained in Dezful were "beaten in prison and threatened that if they don't renounce their faith in Christ and turn away from their Christian faith, they will be forced to leave the country or be beaten to death".
Christian couple detained in Tehran
Meanwhile in the capital, Tehran, husband and wife Mehrdad Houshmand and Sarah Nemati were arrested, interrogated and detained for participating in a Christian funeral service on 10 September, including "reading prayers based on Christian teachings". The two Christians, converts from Islam, prayed for one of their friends during the ceremony at the cemetery, following which individuals unknown to them approached the couple, asked for Houshmand's ID and told him to present himself at the Sepah information office the next day.
On 11 September Hushmand and Nemati attended the office, where security officers interrogated them for several hours. They were placed in detention – probably in Tehran's notorious Evin prison, according to Mohabat News, which reports that officers threatened Nemati that her husband would be charged with corruption and told her, "it would be a great service to yourself if you got divorced". She has been allowed one phone call to her family.
President Rouhani's promises not implemented
In recent months, more than a dozen Christians have been given long prison sentences of at least ten years for "acting against national security", and figures for 2016 show that at least 193 Christians were arrested or imprisoned in Iran – many of them converts from Islam.
 Kiaa Aalipour from advocacy organisation Article 18 told World Watch Monitor, "Article 25 of the Charter on Citizens' Rights, which was revealed early in Rouhani's presidency in November 2013, states that 'Citizens have freedom of thought. Inquisition is prohibited, and no-one can be persecuted merely for his or her beliefs'. Article 99 states: 'Holding and attending religious rituals of the religions identified in the Constitution (Christianity, Judaism, and Zoroastrianism) is permitted.'
"The Charter was widely seen as a major step by Rouhani's administration to improve the situation of human rights in Iran. However, Rouhani's early promises have not been implemented. During his term, there has been continuing systematic persecution and discrimination against Christians and other religious minorities in Iran.
"Many Christians from a Muslim background and even recognised Christians [such as ethnic Armenians and Assyrians] have been arrested and received heavy and lengthy jail sentences. Furthermore, there are continuing concerns about the health of prisoners of conscience in Iran. In many cases, the prison authorities refuse to let them receive adequate medical treatment."
He also said that the Iranian government "sees Christian converts as a constant threat to the Islamic identity of the Islamic Republic of Iran… The Iranian regime is very fearful of the growth of Christianity in Iran. If more and more Iranians convert to Christianity, the legitimacy of the Iranian regime, which is based on an Islamic theocracy, will be totally lost."
(Mohabat News/World Watch Monitor)
Share this