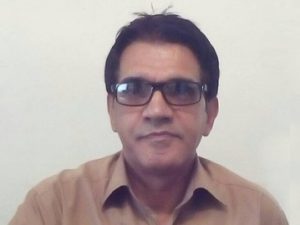 Christian convert Naser Navard Gol-Tapeh (46) and three visiting Azeri Christians arrested with him lost their appeals at a hearing on 12 November. The four Christians were given ten-year prison sentences in May 2017 for "missionary activities" and "actions against national security". They had been arrested on 24 June 2016 after security agents raided an engagement party in Tehran, and spent four months in Tehran's Evin prison before being released on bail on 29 October 2016.
It is not yet known when Naser Navard Gol-Tapeh will be summoned to prison to serve his sentence. The three Azeris – pictured, left to right: Bahram Nasibov (38),
Yusif Farhadov (52) and Eldar Gurbanov (49) – were allowed to leave Iran on 6 November 2016 and are unlikely to be forced to return. A local source said, "The Azeris will only serve their sentences if they return to Iran. They will not be imprisoned in Azerbaijan for an alleged crime committed in another country. Most likely they will forfeit their bail amount and never travel to Iran again."
Background
The three Azeris, all members of "Word of Life" church in Baku, had been invited to Tehran by friends for an engagement ceremony, and travelled there on 22 June 2016. Bahram Nasibov told CBN Christian news agency that more than thirty security agents came to arrest them and took them to Evin Prison. He said, "Although l had been arrested by Azerbaijan security agents many times in the past for my Christian beliefs, this one was much more difficult."
The four Christians were accused of violating the national security of the Islamic Republic of Iran, the destruction of the government's limitations on religious activities by promoting Christianity, association with a foreign organisation ("Word of Life" church in Baku) and promoting Zionist Christianity.
For their first two months in prison, they were kept incommunicado in solitary confinement and continually interrogated. During this time, they were denied consular assistance and legal counsel. In September 2016, they were transferred to shared cells in Evin's Ward 350.
On 23 May 2017, Judge Ahmedzadeh, head of the 26th branch of the Islamic Revolutionary Court in Tehran, handed down their sentences. The men did not hear the verdict until 12 June.
(Christian Solidarity Worldwide/Middle East Concern/Mohabat News/Religious Liberty Prayer Bulletin/World Watch Monitor)
Share this