On 3 August Christian convert Naser Navard Gol-Tapeh celebrated his 60th birthday behind bars. Naser, who has been suffering from poor health, has been serving a ten-year prison sentence for "acting against national security through the formation and establishment of an illegal church organisation in his home" since January 2018. He has appealed for a retrial three times, but each time the request has been denied, and his appeal for parole after serving over one third of his sentence has also been denied.
Naser recently spoke in an audio message from prison in which he reflected on persecution, forgiveness, and justice. He said he bore no grudge against those who sent him to prison and asks for God's forgiveness and blessing upon them. Referring to Ephesians 6:12, he said that his "struggle is not against flesh and blood, but against the rulers, against the authorities, against the powers of this dark world."
 Naser also said that it is quite clear to him that he is being imprisoned because he is a follower of Jesus. He mentioned that Jesus forewarned his followers about persecution and stated in John 15:19, "If you belonged to the world, it would love you as its own. As it is, you do not belong to the world, but I have chosen you out of the world. That is why the world hates you."
However, Naser did question why those who follow Christ's mission of peace and reconciliation should be accused of "acting against national security" or "overthrowing the regime". He went on to say that the fifteen people who are in Evin prison for their faith in Christ want to thank everyone who is praying for them and ask them to continue to lift them up in their prayers. He also asked for prayers for his mother and oppressed Farsi-speaking Christians.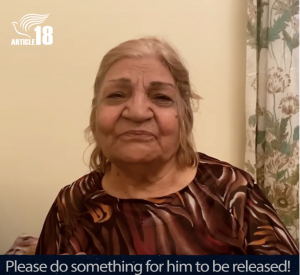 Before his imprisonment, Naser was his elderly mother's primary carer and having been led to believe he would be granted parole, he had reassured his mother that he would soon be able to return to her which has not been the case. On his 60th birthday, in a video message, his mother made an emotional plea for his release. She said that Naser is a good son to her and calls her every day from prison, but that she is very lonely. She cried out: "He has done nothing; he only became a Christian! What is his crime that he is being held in prison? Please do something for him to be released!"
(Article18)
Share this