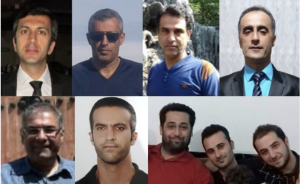 Nine converts to Christianity have been sentenced to five years each in prison for "acting against national security". The verdict was announced on 13 October.
Pastor Abdolreza (Matthias) Haghnejad was arrested on 10 February 2019 when security agents from the Islamic Revolutionary Guard raided a house-church gathering he was leading in his home in Rasht. Bibles and mobile phones were confiscated.
Pastor Matthias and the other eight Christians are members of the Church of Iran in Rasht, and were all arrested during raids on their homes and house-church gatherings between 29 January and 23 February.
Khalil Dehkanpour and Hossein Kadivar were detained on 29 January during a raid on a house-church gathering they were leading. Officers from the Ministry of Intelligence scaled the wall of the building, arrested them and threatened everyone else present, confiscating their ID cards and mobile phones.
Shahrooz Eslamdoost, Kamal Naamanian and Mohammed Vafada were arrested at a house-church gathering on 15 February; Babak Hosseinzadeh and Mehdi Khatibi were arrested at two separate house-church gatherings on 23 February; and on the same day, Behnam Akhlaghi was summoned to the offices of Iran's Revolutionary Guards (Sepah).
In March, seven of the accused were released on bail, but Pastor Matthias and Shahrooz Eslamdoust remained in detention.
The nine Christians are pictured left to right, from top: Mohammed Vafada, Kamal Naamanian, Hossein Kadivar, Khalil Dehghanpour, Abdolreza (Matthias) Haghnejad, Shahrooz Eslamdoust and a group photo of Behnam Akhlaghi, Babak Hosseinzadeh and Mehdi Khatibi.
Court hearings
At a preliminary hearing on 24 July, the nine men were all accused of "acting against national security" and "promoting Zionism".
At the hearing, Judge Mohammed Moghiseh, nicknamed the "Judge of Death" for his harsh treatment of prisoners of conscience, rejected lawyer Moshgani Farahani, who had been chosen by five of the defendants (Pastor Matthias, Behnam Akhlaghi, Shahrooz Eslamdoust, Babak Hosseinzadeh and Mehdi Khatibi). They rejected an alternative appointed by the court and the judge was so angry that he increased their bail tenfold. Unable to pay, the five Christians were transferred to Tehran's Evin Prison, where they were incarcerated in Ward 4.
The other four Christians decided to defend themselves and were released on their pre-existing bail until their next hearing. When they appeared in court on 28 July, Judge Moghiseh stated that the Bible had been falsified, called the men "apostates" and accused them of promoting Zionism.
At a final short trial on 23 September, the defendants' lawyer was allowed to speak briefly, but Judge Mogisheh is reported not to have responded to his statement. Christian Solidarity Worldwide reported that a source said, "It seemed as if the judge had already made his decision and allowed this process as a formality before pronouncing a pre-determined sentence."
The verdict, pronounced on 13 October, saw all nine Christians receive five-year prison sentences for "acting against national security". They are appealing. The five Christians who were defended by Moshgani Farahani were remanded in custody; the others are out on bail while they wait for their appeals to be heard.
The nine Christians had all been helping to lead services in the absence of imprisoned Church of Iran pastor Youcef Nadarkhani. He and fellow converts Saheb Fadaee, Yasser Mossayebzadeh and Mohammadreza Omidi, who are also members of the Church of Iran, are all serving ten-year prison sentences.
Pastor Matthias has a history of arrests for his Christian activities dating back to 2006, and Kamal Naamanian has also been arrested before for his Christian activities.
(Article 18/Christian Solidarity Worldwide/Middle East Concern)
Share this