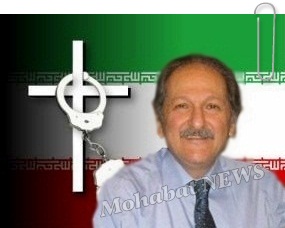 The Revolutionary Court of Tehran has sentenced Pastor Vruir Avanessian to three and a half years in prison. He is suffering from serious illnesses.
UPDATE: Pastor Avanessian died in hospital in Tehran on 29 November 2017, having suffered from kidney failure for many years. He was undergoing dialysis twice a week but in October 2017 the hospital equipment malfunctioned and he went into a coma. He left his wife Rima and their children Melani, Raisa and Steve.
Pastor Avanessian (61) was charged and found guilty of anti-government activities and promotion of ideas contrary to the sanctity of the Islamic Republic of Iran. He was given 20 days to file a complaint in the court against the verdict and the sentence. The court issued this harsh sentence despite being fully aware that Pastor Avanessian suffers from serious heart disease, diabetes and kidney failure – he undergoes kidney dialysis three times week at Heshemi-Nejad Hospital, a private clinic in Tehran. Pastor Avanessian was unable to attend the court hearing because he was at the dialysis clinic.
Pastor Avanessian was an ordained minister of the Armenian and Farsi-speaking congregations of the Assemblies of God Churches in Iran for more than 17 years. He is of Armenian heritage, and before becoming a committed Christian was a popular and widely known Armenian singer. After experiencing miracles in his life through Jesus, Pastor Avanessian dedicated his life to the church, becoming a worship leader at the Central Assemblies of God Church. He has retired from active ministry due to his medical condition; the effect of high doses of medication on his vocal cords ended his singing and preaching.
Arrest
Pastor Avanessian and a group of 50 Farsi-speaking Iranian Christians (former Muslims) were celebrating Christmas at a private residence on 27 December 2012 when they were arrested through the coordinated effort of various government security forces.
The other 50 Christians were interrogated for several hours and released after filling in some forms that included questions such as how they became Christians, why they left Islam, their connection to house churches and their views on the Islamic Republic of Iran and the foreign policies of the regime. Several of their homes were then raided.
Pastor Avanessian was held for 15 days in Evin Detention Centre, where he was subjected to severe interrogation. Prison officers brought him regularly to the dialysis clinic of a local hospital, in his prison uniform. After Christian communities and human rights activists protested against the arrest, and news services spread word of it, he was temporarily released on bail, which was granted on submission of property deeds valued at the equivalent of about €45,000.
The arrest resulted in the closure of the central branch of the Assemblies of God Church in Tehran, the largest Farsi-speaking church in Iran.
Trial
On 7 September 2013, Pastor Avanessian went on trial behind closed doors in Branch 26 of the Revolutionary Court in Tehran. It was decided at this hearing that until the announcement of the verdict of the court Pastor Avanessian was to remain at home and avoid all contact with other Christians. It was reported that the charges announced in the court session included "action against national security" and "proselytising Farsi-speaking citizens".
Based on official court documents obtained on 5 December by Mohabat News, the court imposed a three-and-a-half-year sentence, which was delivered to Pastor Avanessian. His medical condition had deteriorated to the extent that at the end of the first court hearing, when the judge ordered Pastor Avanessian to return to court on the following Sunday, he told the judge that due to a prior appointment at the hospital for dialysis he would be unable to attend the hearings. The court ordered him to produce documents and medical proof that would verify his claims of medical difficulties otherwise the court would render its verdict based on allegations presented to the court.
Campaign against Christians
The closure of the central branch of the Assemblies of God Church in Tehran, and the ordering of some of its leaders to leave the country, marked a renewed crackdown on Christians in Iran. According to several government sources, this campaign of terrorising and arresting Christian leaders and pastors who are involved in the evangelisation of Farsi-speaking Iranians had been planned for quite some time. In recent months several of these leaders have been summoned or arrested by the security forces of the Ministry of Information and have been warned and ordered to stop all their ministry activities or leave the country within 90 days.
The arrest and detainment of new Christian converts in various cities in Iran continues. Some have been tried and sentenced to very long prison sentences or exiled to remote places within Iran.
One of the presidential campaign promises of Hassan Rouhani was the improvement of the conditions of ethnic and religious minorities. He was elected President of the Islamic Republic of Iran in June 2013. There has been no improvement in the condition of Christians.
(Mohabat News)
Share this