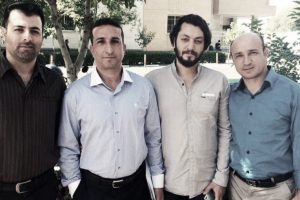 In early July, four members of the Church of Iran in the northern city of Rasht learned that each had been sentenced to ten years in prison for "actions against national security" including "propagating house churches" and "promoting Zionist Christianity". They are, from left, Saheb Fadaie, Youcef Nadarkhani, Yasser Mossayebzadeh and Mohammadreza Omidi.
The four men, all former Muslims, were arrested on 13 May 2016 in a series of raids by Ministry of Intelligence agents on Christian homes in Rasht. They were released on bail within weeks.
On 14 June 2017, they were summoned to the 26th branch of the Revolutionary Court in Tehran, where Judge Ahmadzadeh told them they would receive a verdict within twenty days, and accused their church of receiving £500,000 per year from the British government.
The verdict was dated 24 June but only received on 6 July by the Christians' lawyer, who will appeal, and must do so within twenty days of receipt of the verdict. It is thought that the men will remain out on bail until their appeal hearing.
Mohammadreza Omidi and Pastor Youcef Nadarkhani will have to serve two years of their sentence in internal exile in southern Iran, far away from their families: Omidi in Borazjan (more than 1100 km south of Rasht) and Nadarkhani in Nik Shahr (2000 km southeast of Rasht).
During the four men's hearing on 14 June, Judge Abolghasem Salavati, who heads the 15th Branch of the Revolutionary Court and is notorious for issuing harsh sentences, entered the court room and interrupted proceedings, saying: "Christians make foolish claims". It is thought his presence in court was intended to pressurise Judge Ahmadzadeh into issuing severe penalties.
Previously, Nadarkhani had been arrested and imprisoned in 2009 and sentenced to death for apostasy in 2010. He served almost three years in prison before he was acquitted and released in September 2012, although he was found guilty of evangelising and was ordered back to prison on 25 December 2012 and held until 7 January 2013.
In 2012, it was Judge Salavati who sentenced Nadarkhani's lawyer Mohammad Ali Dadkhah to nine years in prison, a fine and a flogging (converted to a fine) for alleged crimes against the state.
Background
On 13 May 2016, during a series of Ministry of Intelligence raids on Christian homes in the northern city of Rasht near the Caspian Sea, agents raided a house-church communion service. They arrested several Christians and confiscated Bibles, computers and mobile phones.
The security agents took Yasser Mossayebzadeh, who was the host of the meeting, and Youcef Nadarkhani and his wife Fatemeh Pasandideh  into custody. Nadarkhani and Pasandideh were released later that day. Agents later summoned Mohammadreza Omidi and Saheb Fadaie to their office by phone and then arrested them in connection with the raids.
Mossayebzadeh and Fadaie were released on 28 and 29 May 2016, and Omidi on 7 June 2016, all on bonds equivalent to €29,000. On 24 July 2016, officials summoned Nadarkhani to court, charged him with "crimes against national security" and released him on the same bond.
On 10 September 2016, Mossayebzadeh, Fadaie and Omidi were sentenced to eighty lashes each for drinking alcohol (communion wine); they are still awaiting the outcome of their appeal against this verdict. It was the second time Fadaie and Omidi had been sentenced to flogging for taking communion wine. Non-Muslims are permitted to drink alcohol in Iran, but leaving Islam is forbidden, so converts to Christianity are not recognised as non-Muslims and thus may not drink alcohol.
(Christian Solidarity Worldwide, Middle East Concern, Morning Star News, Religious Liberty Prayer Bulletin, World Watch Monitor)
Share this