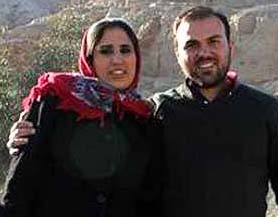 Saeed Abedini (32), an Iranian-American pastor serving an eight-year sentence in Evin prison, has written to his family that he is undergoing torture, death threats and pressure to renounce his faith from prison officials and inmates.
On 27 January 2012 the Iranian Revolutionary Court sentenced Saeed to eight years in prison for allegedly threatening national security by planting house churches. He had been arrested in September 2012, and had been threatened with the death sentence.
Saeed described his ordeal in a letter dated 18 February to family members. In the letter, released by his U.S.-based lawyers, Saeed wrote that maltreatment is such that his eyes "get blurry, my body does not have the strength to walk, and my steps become very weak and shaky". He described prison conditions, including "various [bullying] groups, the psychological warfare, not seeing my family, physical violence, actions committed to humiliate me, insults, being mocked, being confronted with extremists in the prison who create another prison within the prison walls, and the death threats".
It has been reported that Saeed is suffering from infections from injuries that have not been properly treated. Evin prison in Tehran, one of the world's most dangerous prisons, is infamous for its maltreatment of political dissidents and government protestors. Activists and converts to Christianity serve time alongside murderers and rapists.
Saeed wrote that prison officials have targeted him for abuse in pressurising him to renounce his faith: "They are trying to put me under such horrific pressures… so that they can show me that my faith is empty and not real. And after all of these pressures, after all of the nails they have pressed against my hands and feet, they are only waiting for one thing… for me to deny Christ. But they will never get this from me."
Prison officials and Muslim extremists in his cell have used various methods to punish Saeed for leaving Islam for Christianity. He is in a cell with 20 to 25 other prisoners, some of whom have subjected him to physical and psychological torture. In one case, the leader of his cell attacked him when he was singing praise songs, said Tiffany Barrans, international legal director of the American Center for Law and Justice (ACLJ).
"While the prison officials try to use his conviction and sentence as leverage, other prisoners use physical assaults," she told Morning Star News. Muslim prisoners consider it their duty to return "lapsed" Muslims to their religion; officials consider it a matter of control.
Saeed wrote that he responded to the cell group leader's assault by hugging him; the assailant, he noted, was shocked. "It is during these harsh conditions, that I deeply need God's Saving Grace so that I can be the fragrant Scent of Christ in the dark house of Evin prison," he wrote. "I have often seen the Shining Morning Star in the darkness of this prison and I have seen His amazing and supernatural works. Oh, how beautiful is seeing the light of the Shining Morning Star of Christ in such evil darkness."
Appeal
Saeed's lawyer Naser Sarbazi, a Muslim who is committed to human rights, appealed the verdict on 4 February and is awaiting another hearing. The written submission is being reviewed by a panel of three Revolutionary Court judges, but no date has been set for the final decision.
Advocacy groups have been working for months to secure Saeed's release. The ACLJ filed a document last week with the U.N. Human Rights Council to call on Iran for his release, and on 14 February a bipartisan group of more than 80 members of Congress sent a letter to Secretary of State John Kerry to "exhaust every possible option to secure Mr. Abedini's immediate release".
Family
Saeed's wife Nagmeh (pictured above, with Saeed) is worried that he will not survive his harsh treatment. Nagmeh and their two children are in their home town of Boise, Idaho, where they are staying with her parents. Nagmeh cannot visit Saeed. "This is the very hard, heartbreaking part of it," she said. "As a wife, my first reaction was to travel and be there. Unfortunately, I was threatened that if I step one foot in an airport in Iran, I would be arrested, and then the children would have no mother or father."
On 9 January, Naghmeh spoke to her husband during a three-minute mobile phone call between Boise and Tehran. Saeed has family members in Iran, who held two mobile phones together, one linked to Nagmeh and the other to Saeed in a holding cell. "He wanted to hear the kids' voices," Nagmeh said. After the three minutes were up, "we heard there will be no more phone calls," she said.
Nagmeh said that the U.S. State Department has been in regular contact with her since mid-December, sometimes to update her with new information, but more often to ask her for information, which she said she obtains from phone contact with Saeed's family, under house arrest in Iran.
(Morning Star News, World Watch Monitor)
Share this