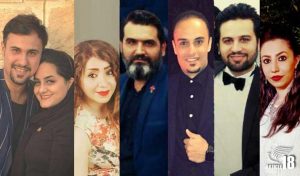 On 21 June, the Revolutionary Court in Iran's southwest city of Bushehr gave seven Christian converts (including three married couples) sentences including prison terms, exile, work restrictions and fines.
The Christians (pictured, from left: Pooriya Peyma, Fatemeh Talebi, Maryam Falahi, Sam Khosravi, Habib Heydari, Sasan Khosravi, Marjan Falahi) were arrested a year ago and convicted of "propaganda against the state" in April. The four men received custodial sentences, while the three women received fines and work restrictions. They were given twenty days to appeal their sentences.
Brothers Sam and Sasan were each sentenced to one year in prison followed by a two-year exile from Bushehr, which includes a ban on working in their profession, the hospitality sector. Habib received a one-year prison sentence and Pooriya received a 91-day sentence, which is the minimum required to leave the prisoner with a criminal record.
Fatemeh (married to Pooriya) and sisters Maryam and Marjan (married to Sam and Sasan) were fined and Maryam, a nurse, was given a lifetime ban on working for any national institution, including the hospital where she has worked for at least twenty years.
The seven Christians were arrested in coordinated raids on their homes on 1 July 2019. Ministry of Intelligence agents confiscated Bibles, Christian literature, crosses, pictures with Christian symbols, laptops, phones, identity cards, bank cards and other personal belongings, and also searched their work places, confiscating computer hard drives and security-camera recordings. 
Sam and Sasan's mother Khatoon Fatolahzadeh was also arrested but was released later the same day on age grounds as she is in her sixties. The seven others were held in solitary confinement in the Ministry of Intelligence office in Bushehr and were denied access to lawyers and coerced into confessing on camera. Some of their associates were later summoned for interrogation.
The seven Christians were released on bail after two weeks. They were charged with "propaganda against the state", "collusion" and "membership of a group hostile to the regime". The second and third charges could have led to ten-year sentences, but the Christians were acquitted of those charges at a hearing on 30 December 2019. They were told, however, that the remaining charge of "propaganda against the state" was applicable because of their possession of items claimed as evidence that they had evangelised – the judge named literature including copies of "Who is Jesus?" and "Getting to Know the Bible". They were convicted of this charge following a hearing on 20 April 2020.
(Article 18/Religious Liberty Prayer Bulletin)
Share this