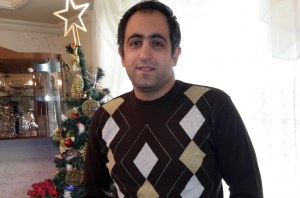 In the third of a four-part series on the persecuted Bet-Tamraz family, we focus on Ramiel (35), the son of Pastor Victor and Shamiram Issavi Khabizeh. Ramiel was released from Evin prison on 26 February 2020 after serving seven weeks of a four-month sentence for "acting against national security through organising and establishing house churches".
Ramiel, his sister Dabrina and their parents are Assyrian Christians who have endured many years of persecution for their Christian activities. Assyrian Christians have relative freedom to worship in Iran, but only in their traditional language – not Farsi (Persian), the official language of Iran – and they may not evangelise or admit converts to services.
Ramiel's parents led the Shahrara Assyrian Pentecostal Church in Tehran before it was forced to close in March 2009 for holding services in Farsi and since then they have led a house church in their home. They have each been sentenced to ten years in prison for their ministry among Farsi-speaking converts and are out on bail while they wait for their appeal hearing, which is scheduled for 1 June.
Ramiel was one of seven Christians among approximately 100,000 prisoners given temporary release due to concern over Covid-19 spreading through Iran's overcrowded prisons. Time already served following his arrest meant that his release came three weeks early and he will not have to return to prison to serve the remainder of his sentence.
Christmas raid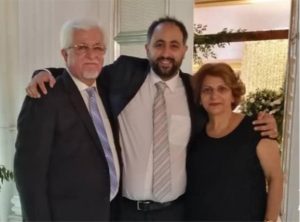 On 26 December 2014, Ramiel was detained with Victor and Shamiram (pictured) and twelve converts to Christianity when armed Ministry of Intelligence agents raided a Christmas celebration in his parents' home in Tehran. The agents accused the Christians of "holding an illegal meeting" and seized family records, mobile phones, laptops, bank details and books.
Ramiel's sister Dabrina told 222 Ministries, "The authorities separated men from women and conducted strip searches, seizing all Bibles, confiscating personal items such as cellphones, laptops, and identification documents. All attendees were interrogated on camera and were forced to sign forms committing to never gather together again."
Most of the detainees were released that night, but Pastor Victor and two converts (Amin Afshar Naderi and Kavian Fallah Mohammadi) were imprisoned and released on bail in early 2015.
Picnic arrest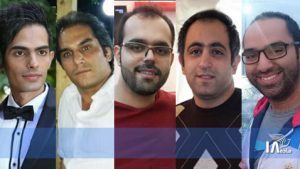 In the summer of 2016, Ramiel went on a fishing trip with Christian friends to Firuzkuh in the Alborz mountains, 150 km northeast of Tehran. On 26 August, armed security officials from the Ministry of Intelligence and plainclothes police officers raided a picnic the Christians were holding and arrested Ramiel and four friends (pictured, from left: Mohamad Dehnay, Hadi Asgari, Amin Afshar Naderi, Ramiel Bet-Tamraz and Amir Sina Dashti). Everyone at the picnic had belonged to the Shahrara Assyrian Pentecostal Church in Tehran before it was shut down, and all except Ramiel were converts from Islam.
Amin asked to see the arrest warrant, but instead of producing one the officials showed him a gun and said, "this is our warrant". They then beat him and used pepper spray. The officials told each person present to fill in a form with personal details including religious affiliation, involvement in house churches and social media passwords, then handcuffed them and took them to the prosecutor's office at Firuzkuh court, where charges of "house-church activities" were read out. When Amin stated that he had been beaten up during his arrest, the officers threatened him.
Two of the men's wives who had also been arrested were released and the officials took Ramiel and his four friends to Tehran's Evin prison. They were charged with "acting against national security" and "organising and establishing house churches", with Ramiel facing additional charges related to his father's ministry.
They were imprisoned in Ward 209, which is under the control of the Ministry of Intelligence, and endured long periods of solitary confinement and repeated interrogation about their Christian activities and about Pastor Victor.
Dabrina told 222 Ministries, "We were initially unable to obtain any information about the whereabouts of those detained. The following day, we received a very short phone call from my brother, who told us they were being held in Tehran's Evin prison. We didn't hear from him again until a month had passed. They were interrogated and denied access to their attorneys during the entire period they were held."
Ramiel and Mohamad were released on bail on 10 October 2016 and Amir in December 2016. Amin (who had previously been arrested at the Christmas raid) and Hadi were not released on bail until July 2017 and April 2018 respectively.
Sentenced
Ramiel had a long wait for his case to come to trial. On 18 June 2018, he was tried at the 26th Revolutionary Court in Tehran and on 11 July Judge Ahmadzadeh sentenced him to four months in prison for "acting against national security through organising and establishing house churches", with the six weeks he had spent in prison following his arrest counting as time already served.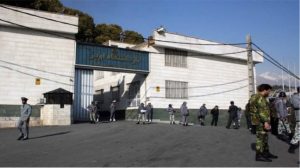 His appeal was unsuccessful and in January 2020 he was summoned to Evin prison (pictured) to serve the remaining two and a half months of his sentence. He submitted himself on 7 January.
Ramiel's friends Mohamad and Amir were tried at the same time as him and were sentenced to four months each in prison for "acting against national security by attending house churches".
His other friends Amin and Hadi received much longer sentences – they went on trial in May 2017 with Ramiel's father Victor and in July 2017 they were each sentenced to ten years in prison for "acting against national security by organising and conducting house churches" plus a two-year ban on leaving the country following release. Amin was sentenced to an additional five years in prison for "insulting the sacred" (blasphemy). They are waiting for their appeals to be heard.
Prison
In February 2020, while Ramiel was still in prison, Dabrina told Article 18 that he was in good spirits and greatly appreciated the chance to pray and worship with other Christians in Evin Prison, including Yousef Nadarkhani and Naser Navard Gol-Tapeh. Ramiel had told her that they took turns to give short sermons, and that when his turn came he hoped to retell one of his father's old sermons, if he could remember it.
"He's a very positive guy," Dabrina said. "He's an extremely lively, happy person. He takes everything lightly; he's not very serious, so he makes the best out of it all. So even in prison he's fine, he's happy, he's making jokes and laughs, and trying to make the best out of it – mainly for my parents, so they won't be too troubled."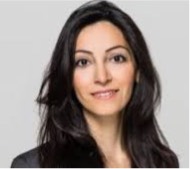 Dabrina (pictured) described conditions as "not too bad – for a prison". She said, "They can cook, they can eat well. They are free to move and talk to each other; they have time where they can go for a walk outside for fresh air, they have a telephone so they can make phone calls with their families every day, and once a week meet family members – on Tuesdays."
However, Dabrina said that Ramiel's detention was hard for the whole family, particularly his wife Ninebra.
Dabrina has been a constant advocate for her family and for other Iranian Christians and will feature in Part 4 of this series. She was interrogated and imprisoned on national security charges when the Assyrian Pentecostal Church in Tehran was closed in 2009, but her parents later managed to get her out of Iran.
(Amnesty International/Article 18/Middle East Concern/Open Doors/222 Ministries)
Share this