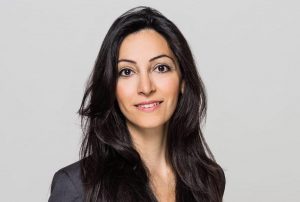 In the last of a four-part series telling the story of the persecuted Bet-Tamraz family we focus on Dabrina, who has left Iran and has devoted herself to advocating for her parents Pastor Victor Bet-Tamraz and Shamiram Issavi Khabizeh, her brother Ramiel and other persecuted Iranian Christians.
Dabrina and her family are Assyrian Christians and have endured many years of persecution for their Christian activities. Assyrian Christians have relative freedom to worship in Iran, but only in their traditional language – not Farsi (Persian), the official language of Iran – and they may not evangelise or admit converts to services.
Dabrina's parents led the Shahrara Assyrian Pentecostal Church in Tehran before it was forced to close in March 2009 for holding services in Farsi and since then they have led a house church in their home. They have each been sentenced to ten years in prison for their ministry among Farsi-speaking converts and are out on bail while they wait for their appeal hearing on 1 June. Ramiel was given early release from Evin prison on 26 February 2020; he had been serving a four-month sentence for "acting against national security through organising and establishing house churches".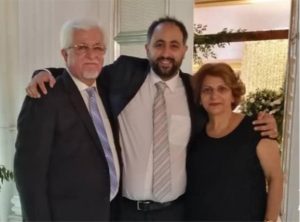 In May 2020, responding to Church in Chains publishing a series of articles about her family (pictured), Dabrina said: "On behalf of my family I would like to thank you for your prayers and all your support. We are grateful that Ramiel is safely home with his wife and family. My parents appreciate your prayers for their coming court hearing on June 1st. Having a new judge and with all that is going on at the moment with Covid-19, internal and external struggles, it is difficult to estimate the outcome. We trust that the Lord has good thoughts and plans for my parents and has the whole process in his hands."
Harrassed
The Iranian authorities continuously harassed Dabrina's family while she was growing up. She told Christian Solidarity Worldwide, "Growing up as a Christian in Iran, it was always obvious we were treated differently. Until I was about ten, the church experienced a decade of severe persecution. Pastors were being killed, churches were under massive pressure, and my parents were regularly taken in for interrogation. When I was a teenager we were constantly under surveillance; we were bugged and there were spies in the church. It began to make us question everything everyone says. We didn't know who we could trust. We were ready for one of the family to be killed. 
Interrogated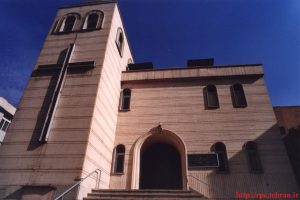 When the Shahrara Assyrian Pentecostal Church (pictured) was closed in 2009, Dabrina was interrogated and detained on national security charges. She was held in a men's detention centre without any female officers present and was forced to give the authorities names of church leaders and information about their activities. She was then forced to sign documents and agree to criminal charges against her family and other pastors.
Dabrina's family and friends helped her to leave Iran and she fled to Switzerland. In May 2019, she told Iran Focus, "I was arrested many times in Iran. I was threatened, forced to cooperate with the government against pastors, Christian leaders and church members. I was kept in custody with no legal permit, with no female officer present and in male surroundings. I now feel safe in Switzerland, but when Iranian MOIS [Ministry of Intelligence] officers published an article on social media with my pictures and home address – encouraging Iranian men living in Switzerland to 'pay me a visit' – I had to move to another house."
Advocacy
Since fleeing Iran, Dabrina has devoted herself to advocating for her family and other persecuted Iranian Christians. She has said she believes the authorities are trying to draw out her parents' court proceedings for as long as possible in the hope that they leave the country. In August 2019, she told Article 18, "I think they're really going to just push them to the limit so that they will leave the country. I don't believe they [will] put them in prison, but to just let them go is not an option either. So I think they've stuck themselves in the process, and they don't know what to do."
Dabrina's campaign has taken her to the UN Human Rights Council in Geneva, to the second annual Ministerial to Advance Religious Freedom in Washington DC and to a UN religious freedom event in New York.
UN Human Rights Council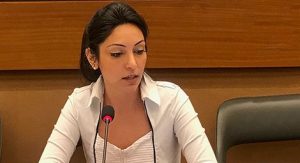 On 27 June 2018, Dabrina appealed to the UN Human Rights Council in Geneva to intervene to overturn the "false and baseless charges" against her family and other Christians in Iran. She was speaking as a representative of the World Evangelical Alliance.
Dabrina told the council, "There are many Iranian Christians today serving sentences for similar, baseless accusations. This is wrong. And these court cases must stop. Iranian Christians are not terrorists, as my father said in his last court hearing, and I repeat: 'We love our country. We pray for our authorities. We have no intentions against the government'."
Ministerial to Advance Religious Freedom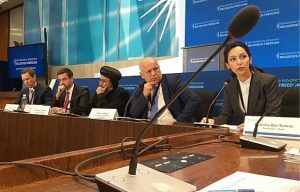 On 17 July 2019, Dabrina attended the second annual Ministerial to Advance Religious Freedom organised by the United States Department of State in Washington DC. She spoke on a panel entitled "Addressing Challenges to Religious Freedom in the Middle East" on the challenges facing Christian minorities in Iran.
"Terrorists, Zionists, spies, a threat to national security: this is how Evangelical Christians are referred to in my native country, Iran," she said. "Many Christians have received lengthy prison sentences for false charges related to the practice of their faith, and their sentences have been upheld by the Court of Appeals. Most of these cases involved converts from Islam, but there are also several instances where members of recognised Armenian and Assyrian Christian minorities were imprisoned or sentenced to prison due to their religious activities. My parents, my only brother, and myself included… I myself am an ethnic Assyrian Christian. My people trace their ancestry in these lands for thousands of years, and yet now we have all but disappeared from our homeland. According to the 1976 census, there were 200,000 Assyrian Christians in Iran. Now, less than one-fourth of that number remain."
Dabrina called on the Iranian authorities to "order the immediate and unconditional release of Christians detained on spurious charges related to the practice of their faith and religious activities; and uphold the right to freedom of religion or belief for every citizen, regardless of their ethnic or linguistic group, including converts from other religions" and asked that the US and the international community hold Iran accountable for its mistreatment of religious minorities and urge the Iranian authorities to uphold their obligation to ensure freedom of religion and belief for all its citizens by emphasising this principle during negotiations with, or concerning, Iran.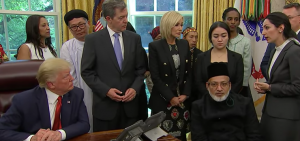 Following the panel discussion, Dabrina raised her parents' cases with President Trump when she visited the White House as part of a delegation of survivors of religious persecution (pictured, with Dabrina at far right). She told him, "Mr President, I'm part of a Christian minority from Iran; my family [is] being persecuted in Iran… We would appreciate it if you would mention my family but also Christian persecution in Iran in negotiations with or about Iran." In reply, he promised: "I'm going to get the information. I will." Dabrina also delivered a letter signed by a coalition of Assyrian organisations to the President's Chief of Staff about the challenges facing Assyrians in various countries.
UN General Assembly September 2019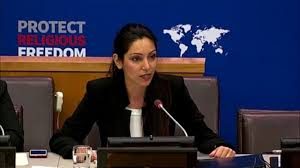 On 23 September 2019, Dabrina was one of eleven survivors of religious persecution to attend the 74th Session of the UN General Assembly. In her speech, Dabrina said: "I managed to escape, but I can't forget those I left behind: my family and the innocent people serving harsh sentences for the peaceful practice of their faith. Since 2018, more than two hundred Christians have been arrested and are serving harsh sentences. They are either now in prison serving lengthy prison sentences or awaiting trials. Christians in Iran are no politicians or activists of some sort, including my family. They're simply believers attending prayer and worship gathering.
"In addition to Christians, other faiths including Baha'is, Sunni Muslims, and Sufis also face discrimination and severe restriction to the freedom of religion. I implore the international community gathered here to hold Iran accountable for its mistreatment of religious freedom and prioritise religious freedom as a foundational human right for all. Every person has a right to live out their faith in safety, peace and dignity."
(American Rhetoric Online Speech Bank/Article 18/Assyrian Policy Institute/Christian Solidarity Worldwide/Iran Focus/Middle East Concern/Open Doors/US Department of State/222 Ministries)
Share this