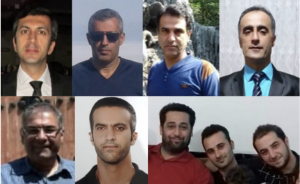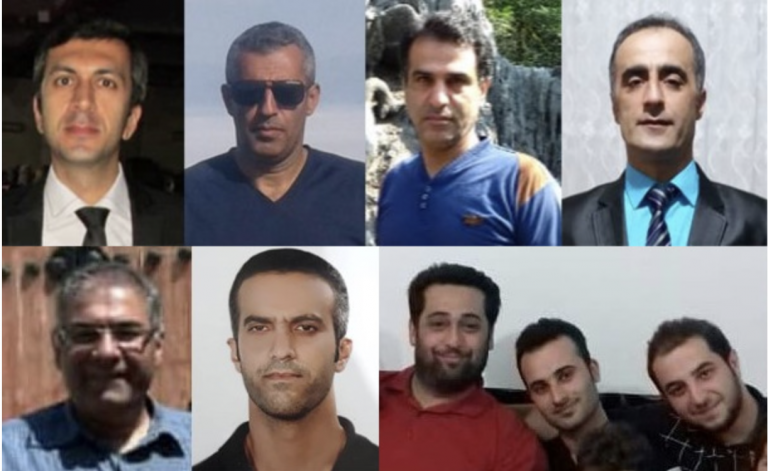 In a decision that could have significant implications for Christian prisoners in Iran, the Supreme Court has ruled that belonging to a house church is not a criminal offence.
The ruling was made when the Supreme Court ordered the retrial of nine Christian converts who are serving five-year prison sentences. (Left to right, from top: Mohammed Vafadar, Kamal Naamanian, Hossein Kadivar, Khalil Dehghanpour, Pastor Abdolreza [Matthias] Haghnejad, Shahrooz Eslamdoust and a group photo of Behnam Akhlaghi, Babak Hosseinzadeh and Mehdi Khatibi.)
According to advocacy organisation Article 18, the ruling (which was handed down on 3 November but only communicated to the Christians' lawyers on 24 November) "should now pave the way for the release of the nine Christians following a retrial at a Revolutionary Court".
The ruling states: "Merely preaching Christianity, and promoting the 'Evangelical Zionist sect', both of which apparently means propagating Christianity through family gatherings [house-churches] is not a manifestation of gathering and collusion to disrupt the security of the country, whether internally or externally."
It adds that the "formation of these societies and groups is not [a breach of] Articles 498 and 499 of the Islamic Penal Code, or other criminal laws". Article 18 notes that these articles, which relate to membership or organisation of "anti-state" groups, were used in the convictions of all Iran's Christian prisoners of conscience. The ruling also states, "The promotion of Christianity and the formation of a house church is not criminalised in law."
Article 18 says that the Supreme Court decision "has the potential to become a landmark ruling", and goes on to explain that "while the ruling is not enough on its own to set an official 'precedent', nevertheless it has the potential to influence all current and future cases involving Persian-speaking Christians".
Mansour Borji, Article18's advocacy director, commented: "We welcome this ruling, from the highest court in the land, but continue to call for clarification from the Iranian authorities of where Persian-speaking Christians can worship without fear of arrest and imprisonment. We further call for Persian-speaking Christians to be provided with a specific place of worship, as is their right under both Iran's constitution and the international covenants to which Iran is a signatory, without reservation."
Christian converts from Islam are not permitted to attend Iran's official Armenian and Assyrian churches, which is why they meet in small house groups, at constant risk of discovery and arrest. More than twenty Christians are currently detained on "national security" charges.
Background
The nine Christians at the centre of the Supreme Court ruling are members of a Church of Iran house church in the northern city of Rasht. They were arrested in January and February 2019 and, in a verdict announced in October 2019, they were convicted of "endangering state security" and "promoting Zionism" and given five-year prison sentences. The sentences were upheld on appeal in February 2020, with none of the men or their lawyers present.
Article 18 reports that some of the nine Christians were already eligible for parole before the recent ruling, having served over one third of their sentences, but they were reluctant to accept conditional release without being assured that they would not be rearrested if they continued to meet together for prayer and worship.
Practical implications
Following the Supreme Court ruling, Article 18 spoke to human rights lawyer Hossein Ahmadiniaz, who said the nine converts can now ask to be released on bail – and if the prison rejects their requests, their continued detention would be illegal.
He added that since the Supreme Court ruled that there should be a retrial, the converts' sentence is "rendered null and void, and the case must be examined again from the beginning, taking into account the clarification that attending a house-church is not a crime".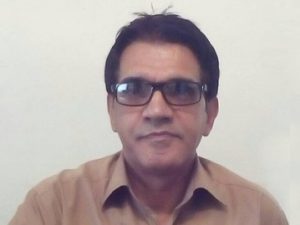 The lawyer further explored the practical implications of the ruling, explaining that the nine Christians' case will be sent to the Revolutionary Court and that a different judge may reject the Supreme Court's decision, leading to further appeals, with no guarantee that a favourable final verdict would set a precedent to be applied to all similar cases. He commented, however, "Christian prisoners like Mr [Naser Navard] Gol-Tapeh [pictured], citing the verdict of Branch 28 of the Supreme Court, can demand a retrial and say that 'our situation is just like that of these nine Christian converts', and that attending a house-church is not a crime."
Asked why the Supreme Court had issued its surprise ruling, the lawyer replied, "Fortunately, this time the case was sent to an independent court, whose decision was not influenced by the security and intelligence agencies. According to the law, Christian converts are innocent, and every time a court rules against them, it is a violation of their rights. Under any fair and legal ruling, Christians should always be found to have acted entirely within the law. The law does not anywhere say that attending a house-church or worshipping in a group is a crime."
(Article 18)
Share this