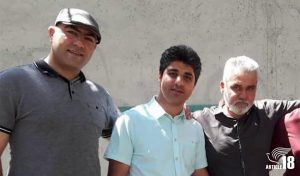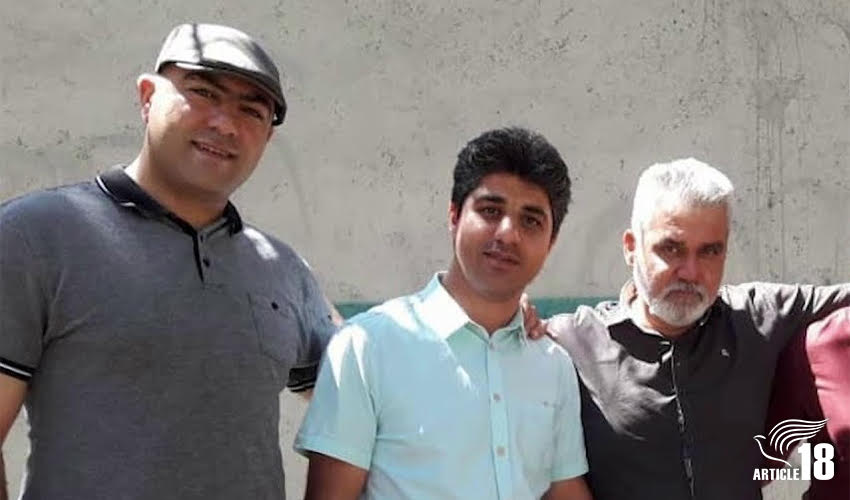 On 26 June, the 4th Branch of the Revolutionary Court in Karaj informed Christian converts Milad Goudarzi, Amin Khaki and Alireza Nourmohammadi (pictured, from left) that they had been sentenced to five years each in prison and fines of four hundred million rials (approximately €1,600) for "engaging in propaganda that educates in a deviant way contrary to the holy religion of Islam".
The three Christians, all members of the non-Trinitarian Church of Iran, intend to appeal the verdict. They stood trial in Karaj on 21 June 2021 and had to represent themselves because Judge Mehdi Zeinali prevented their lawyer from attending the trial, claiming he had not completed the necessary documentation. When the Christians asked whether they could bring their lawyer to court for the sentencing on 26 June they were told they were not entitled to a lawyer, in breach of their rights and Iran's constitution.
Homes raided
Iranian intelligence agents carried out coordinated raids on the homes of Milad, Amin, Alireza and nine other Christian families in Fardis in northern Iran on 11 November 2020 and confiscated Bibles, phones, computers and Christian literature. None of the Christians was arrested at that time, but in January and February 2021 a member of each family was summoned for interrogation and ordered to sign commitments to refrain from meeting together in person or online. When the Christians refused to sign they were threatened with long prison sentences and told it would be better for them if they left the country.
In May, Milad, Amin and Alireza were summoned and interrogated by the 4th Branch of the Public and Revolutionary Prosecutor's Office of Fardis city, where they were accused of "engaging in propaganda against the Islamic regime". They were released on bail and told to report to intelligence police weekly for the following six months. Seventeen other church members were also interrogated and threatened with imprisonment or consequences such as employment restrictions.
Previous imprisonment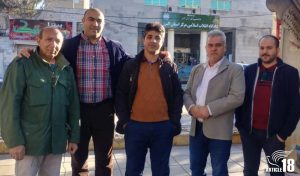 Milad, Amin and Alireza have already spent time in prison for their Christian activities – in July 2019, they were imprisoned in Karaj for "propaganda against the state" along with Yaghoob Nateghi and Shahebedin Shahi, who are also members of the Church of Iran. (Pictured, from left: Yaghoob, Milad, Amin, Alireza and Shahebedin.)
They had all been arrested during raids on their homes and work places in December 2017 and were released on bail in early 2018. They were summoned to court in November 2018 to face charges of "acting against national security" but the judge rejected their defence lawyer and the hearing was postponed.
In March 2019, Milad, Alireza, Yaghoob and Shahebedin were given four-month prison sentences for "propaganda against the regime" but Amin, who had already spent a year in prison, was given a 14-month sentence for "propaganda against the regime and establishing house churches". Their sentences were upheld in the appeal court in June 2019 and they were informed by text message that they should present themselves at the prison on 5 July.
Amin was first arrested in May 2010, charged with "anti-government activity" and given a one-year suspended sentence that was eventually suspended for five years. In March 2014, he was again arrested and detained while attending a picnic with other Christians near Shoush in western Iran and in October 2015 he was sentenced to one year in prison (including time already served) for "action against national security". He was released in July 2016.
Newly-amended Article 500 "a catastrophe"
Amin, Milad and Alireza are the first known examples of Christians being charged and convicted under the newly-amended Article 500 of Iran's penal code. Dealing with "propaganda against the state", it was signed into law by President Rouhani in February and came into force on 3 March.
The amendment allows prison sentences of between two and five years, deprivation of civil rights such as voting for up to 15 years and heavy fines for "any deviant educational or proselytising activity" by members of so-called "sects" that "contradicts or interferes with the sacred law of Islam" through "mind-control methods and psychological indoctrination" or "making false claims or lying in religious and Islamic spheres, such as claiming divinity".
Amendments made at the same time to Article 499, which relates to membership or organisation of "anti-security groups", make it a punishable offence to "insult divine religions or Islamic schools of thought… with the intent to cause violence or tensions in society or with the knowledge that such will follow".
The two existing Articles were already used in prosecuting Christian converts, but the new wording is open to interpretation and rights groups have warned that the amended Articles could be used to further clamp down on converts and other unrecognised religious minorities.
Article 18's advocacy director Mansour Borji called both amendments "a catastrophe" that will "bring more ambiguity to an already ambiguous set of charges… and decrease the chance that a judge may act in a more tolerant way towards house-church members, by providing greater scope within the law to bring charges on these vaguely-defined grounds". He also said the new amendments would be "celebrated by Iran's intelligence agencies, who are always in the background in court cases against Christians, pressuring judges to impose the harshest possible sentence".
(Article 18, Christian Solidarity Worldwide, Middle East Concern)
Share this