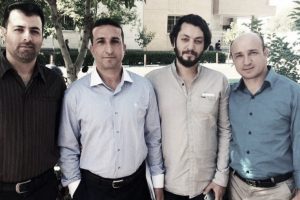 On 22 June, three Christian converts serving ten-year prison sentences in Tehran's Evin prison were informed that their sentences had been reduced following a review of their cases in May. They are part of a group of four members of the Church of Iran house church network who were arrested in the northern city of Rasht in May 2016 (from left: Saheb Fadaie, Youcef Nadarkhani, Yasser Mossayebzadeh and Mohammadreza Omidi).
Pastor Youcef Nadarkhani and deacon Saheb Fadaie had their prison sentences reduced to six years, while church member Mohammadreza Omidi had his sentence reduced to two years and is expected to be released in July. Church member Yasser Mossayebzadeh, who was arrested and convicted at the same time as the other three Christians, was not part of the retrial bid.
Article 18 reported that there was no hearing as such and that the judgment was made in the prisoners' absence – as has become more common during the coronavirus pandemic – by Judge Hassan Babaee at the 54th branch of the appeal court in Tehran.
In June 2017, the four Christians were convicted of "acting against national security by propagating house-churches and promoting Zionist Christianity" and given ten-year sentences. Youcef and Mohammadreza each received additional sentences of two years' internal exile in the remote southeast of Iran – Youcef in the city of Nikshahr in Sistan and Baluchestan Province; Mohammadreza in Borazjan in Bushehr Province.
The four Christians appealed, and remained out of prison while they awaited a verdict. They attended a hearing at the Revolutionary Court in Tehran in December 2017, and in May 2018 were informed that their appeals had failed. They waited to receive the customary summons to prison but instead were arrested at their homes in July 2018 and taken to prison to serve their sentences.
In October 2019, their petitions for retrials were accepted, and a review of their cases took place in May 2020. The lawyer for the Christians is now exploring the possibilities for a further appeal.
No retrial for Naser Navard Gol-Tapeh
Meanwhile, in an unrelated case, house church leader Naser Navard Gol-Tapeh has been informed that his retrial will not take place. Naser is serving a ten-year sentence in Evin prison for "acting against national security through the formation and establishment of an illegal church organisation in his home".
In February 2020, Naser was informed that he had been granted a retrial, having initially been denied in October 2019. Earlier this month, however, he was informed that no retrial would take place.
Naser was arrested in June 2016 and sentenced the following May. He lost his appeal in November 2017 and began serving his sentence in January 2018.
(Article 18/Middle East Concern)
Share this