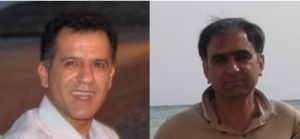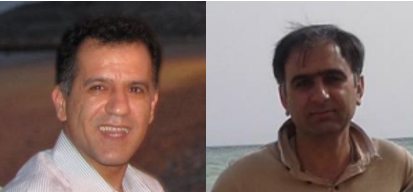 Iranian Christians Eskandar Rezaei and Soroush Saraei (pictured, Eskandar on left) have each been sentenced to eight years in prison. Arrested in July 2017, they were both charged with "acting against national security", while Soroush was also charged with "forgery" for issuing letters as pastor of the Church of Shiraz for students seeking exemption from Islamic studies classes.
Eskandar and Soroush attended a court hearing on 28 December 2017 at the 4th branch of the Revolutionary Court in Shiraz. The judge sentenced them each to seven years in prison for "acting against national security" plus one year for proselytising and forming house meetings. They are appealing the sentences.
Eskandar was arrested on 6 July 2017 at his home in the southern city of Lar, where several hundred New Testaments were discovered and confiscated. He was held at Quran Branch of Adel-Aabad prison in Shiraz, a prison that houses hardened criminals and often lacks heating or health facilities. He was released on bail on 25 September 2017. Soroush, also arrested in July 2017, was initially held at the intelligence offices before being transferred to Adel-Aabad prison. He was released on bail on 18 October 2017.
Previous arrest
In October 2012, Eskandar and Soroush were arrested with five other members of the Church of Iran in a raid on a prayer meeting in Shiraz. Both were released on bail in March 2013 and were convicted on 16 July 2013 of "acting against national security" and "propaganda against the system". Eskandar received a one-year sentence and Soroush a two-and-a-half-year sentence.
Following unsuccessful appeals in March 2014, they waited several months before being summoned to serve their sentences. Both were released before they had completed their sentences – Soroush in November 2015 and Eskandar in December 2015.
Prayer request
Iranian Christians have requested the following prayers:
(1) that Eskandar and Soroush and their families will be strengthened and encouraged by God's presence and peace
(2) that the appeal judge will reject the charges against Eskandar and Soroush, and that they will both be acquitted and released from prison
(3) that those responsible for the persecution of Christians in Iran will love mercy, act justly, learn about Jesus and choose to follow Him.
(Middle East Concern/World Watch Monitor)
Share this