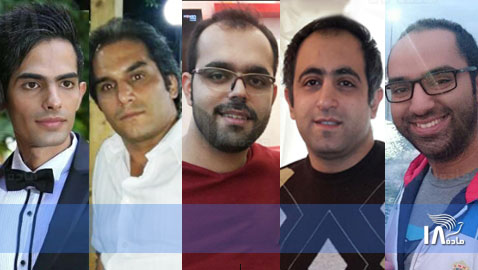 Three of the five Iranian Christians arrested at a picnic in August have been released on bail; two remain in prison.
Mohamad Dehnay and Ramiel Bet Tamraz were released on 10 October on bail of 100 million Tomans (approximately €30,000) each. In early December, Amir Dashti was also released on bail.
Hadi Askari and Amin Nader Afshar remain in detention and have not yet been officially charged. The five Christians who were arrested are pictured, left to right: Mohamad Dehnay, Hadi Askari, Amin Nader Afshar, Ramiel Bet-Tamraz and Amir Sina Dashti. They were not informed of any charges that they face, and were subjected to severe mental pressure during their 45 days in prison. It is reported that Hadi Askari has faced particularly intense pressure during interrogation.
The five Christians were arrested at a picnic on 26 August 2016. They were on a fishing trip with their wives and friends in the Alborz Mountains in Firuzkuh county, 150 km northeast of Tehran, and had gathered in a garden for a picnic. The garden was raided by security authorities from the Ministry of Intelligence and Security, who separated the men from the women and arrested them. Amin Nader Afshar was beaten when he asked to see an arrest warrant. The men's families did not know their whereabouts for weeks, until eventually they learned that they were in Evin Prison in Tehran.

Questions during interrogation related to the activity of Ramiel's father, Pastor Victor Bet Tamraz (pictured), as well as to each one's Christian activity. Pastor Victor led the Tehran Assyrian Pentecostal Church until it was shut down by the Ministry of Interior in March 2009.
Ramiel Bet Tamraz and Amin Nader Afshar had also been arrested during Christmas celebrations in 2014, along with Pastor Victor and twelve other Christians. Most of the detainees were released that night, but Amin and Pastor Victor were charged with conducting illegal evangelism and held in Evin Prison, mainly in solitary confinement, until Amin was released on bail in February 2015 and Pastor Victor until his release on bail on 1 March – he is still awaiting trial.
Why were the five Christians arrested?
Middle East Concern (MEC) reported that the men's families "see no reason for the arrests apart from the connection to the 2014 Christmas arrests. It is feared the aim of the MOIS officials is to force confessions and to extract 'evidence'."
Rob Duncan of MEC told World Watch Monitor, "All are understandably concerned, as there seems no reason for the arrest apart from to gather evidence to convict Pastor Victor and the others arrested at the same time."
The Iranian authorities have detained more than 200 Christians since 2015. Many are in prison, while others have been released conditionally, pending sentencing or an appeal. Rob Duncan said that at least 43 Christians were arrested in August alone. "The Iranian regime is conducting a very active campaign against house churches at the moment and leaders of house churches are harassed and put under pressure," he said.
(Middle East Concern, Mohabat News, World Watch Monitor)
Share this