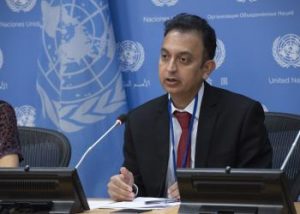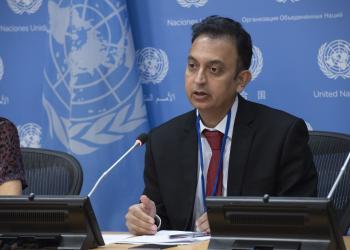 Among many human rights abuses detailed in the recent report of the UN's Special Rapporteur on Human Rights in Iran, written in July and circulated to the UN General Assembly on 16 August, is the failure to uphold freedom of religion or belief.
Rapporteur Javaid Rehman (pictured) points out that according to article 13 of the Constitution, Christians are a recognised religious minority, along with Jews and Zoroastrians, but points out, "Even for the recognised religious minorities, there is no provision under the legal system of the Islamic Republic of Iran permitting conversions from Islam, which is considered apostasy. This puts Christian converts from Islam at risk of persecution. Apostasy is not codified as an Islamic Penal Code offence, but conversion from Islam is punishable by death."
Mr Rehman notes that "Christian converts are not granted access to officially recognised Christian churches, and this forces them to gather clandestinely in informal 'house churches'. Many Christian converts do not make their faith public for fear of persecution. Once identified, Christian converts risk arrests, detention and repeated interrogations about their faith."
He gives examples of converts who have been arrested and charged with "propaganda against the system", "propagation of Zionist evangelical Christianity" or "administering and managing the home churches" and adds that converts have been "subjected to sexual abuse and ill treatment" during detention.
Mr Rehman's first recommendation to the Supreme Leader and relevant legislative institutions is that they "Amend article 13 of the Constitution to ensure that all religious minorities and those who do not hold any religious beliefs are recognised and able to fully enjoy the right to freedom of religion or belief." He follows this with the recommendation that they "Amend all articles in the Islamic Penal Code that discriminate on the basis of religious or belief."
In his second list of recommendations, this time to the government, Mr Rehman recommends that, "In accordance with article 18 of the International Covenant on Civil and Political Rights, to which the Islamic Republic of Iran is a party, [it ensure] that everyone has the right to freedom of thought, conscience and religion, including the freedom to have or to adopt a religion or belief of their choice, or not to have or adopt a religion, and the freedom, either individually or in community with others and in public or private, to manifest their religion or belief in worship, observance, practice and teaching."
He also recommends that the government "Refrain from targeting members of recognised and non-recognised religious minorities with national security-related charges and end the criminalisation of the peaceful expression of faith", that it "Allow places of worship for all religious minorities to be opened, including Sunni mosques and new churches throughout the country" and that it "Refrain from persecuting peaceful religious gatherings in private homes and other premises, refrain from convicting religious leaders and cease the monitoring of citizens on account of their religious identity."
(Article 18/United Nations)
Share this