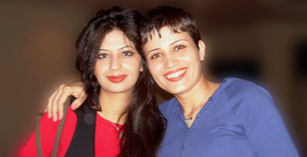 In a dramatic session before the revolutionary court yesterday in Tehran, Maryam Rustampoor (27) and Marzieh Amirizadeh (30) were told to recant their faith in Christ.
Though great pressure was put on them, both women declared that they would not deny their faith. Maryam and Marzieh were originally arrested on 5 March 2009 and have suffered greatly while in prison, suffering ill health, solitary confinement and interrogations for many hours while blindfolded.
On Saturday 8 August, Maryam and Marzieh were summoned to appear in court on Sunday 9 August in order to hear a verdict on their case. The chief interrogator had recommended a verdict of 'apostasy.' However, when they arrived, no verdict was actually given. Instead, the court session focussed on the deputy prosecutor, Mr Haddad, questioning Maryam and Marzieh about their faith and telling them that they had to recant in both verbal and written form. This made it clear that in the eyes of the court, Maryam and Marzieh's only crime is that they have converted to Christianity.
Mr. Haddad, asked the two women if they were Christians. "We love Jesus," they replied. He repeated his question and they said, "Yes, we are Christians."
Mr. Haddad then said, "You were Muslims and now you have become Christians."
"We were born in Muslim families, but we were not Muslims," was their reply.
Mr. Haddad's questioning continued and he asked them if they regretted becoming Christians, to which they replied, "We have no regrets."
Then he stated emphatically, "You should renounce your faith verbally and in written form." They stood firm and replied, "We will not deny our faith."
During one tense moment in the questioning, Maryam and Marzieh made reference to their belief that God had convicted them through the Holy Spirit. Mr. Haddad told them, "It is impossible for God to speak with humans."
Marzieh asked him in return, "Are you questioning whether God is Almighty?"
Mr. Haddad then replied, "You are not worthy for God to speak to you."
Marzieh said, "It is God, and not you, who determines if I am worthy."
Mr. Haddad told the women to return to prison and think about the options they were given and come back to him when they are ready (to comply). Maryam and Marzieh said, "We have already done our thinking."
At the end of the session, Mr. Haddad told them that a judge will give them his verdict, though it is not clear who will be the judge in their case now. He also allowed Maryam and Marzieh to have a lawyer represent them in the case for the first time since their arrest.
Both women were sent back to Evin prison. During their five-month ordeal, both have been unwell and have lost much weight. Marzieh is in pain due to an on-going problem with her spine, as well as an infected tooth and intense headaches.She desperately needs medical attention. Two months ago the prison officials told her the prison had proper medical equipment and that they will attend to her, but so far no proper treatment has been given.
Despite the concentrated effort of officials to pressure them into recanting their faith, Maryam and Marzieh love Jesus and they are determined to stand firm to the very end no matter whatever happens. They have demonstrated their love for Jesus and would offer their lives for Him if they were called to do so. After today's court session they said, "If we come out of prison we want to do so with honour." (Elam Ministries)
Share this