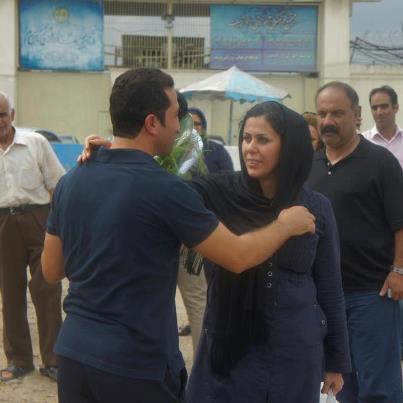 On Saturday 8 September, Youcef Nadarkhani walked free from prison in Rasht and was greeted by his wife Fatemah and their two sons Daniel and Joel.
Youcef's release came after three years of imprisonment during which he was sentenced to death for apostasy. On several occasions it was feared that he would be executed imminently.
At the court hearing on 8 September, Youcef was found not guilty of apostasy but was convicted of evangelising Muslims. He was sentenced to three years in prison for this offence but was immediately released as he has already served this length of time.
There were joyful scenes outside the prison as Youcef was reunited with family and friends. He also had a message for those who had prayed for him throughout his prison ordeal: "Thank you to everyone who has supported me with their prayers."
Youcef has now returned home to his family. (CSW/Present Truth Ministries)
*************************************************************

David Turner (Director of Church in Chains) responded to the news by saying: We rejoice with Youcef and his family at his release from prison. Here in Ireland, we have been following Youcef's case closely through all its twists and turns. Church in Chains has been in regular contact with the Iranian Embassy in Dublin expressing the deep concerns of Irish Christians at his treatment over the past three years.
It was a joy to announce the news of Youcef's release to supporters attending our annual conference in Athlone on Saturday (8 September). One person captured the moment well when he said: "Great news about Youcef's release from prison announced at the Church in Chains Conference earlier today!! Very moving to be among 120 people bursting into applause & spontaneous praise & thanksgiving to God!!".
Click here to read the background to the case
Share this