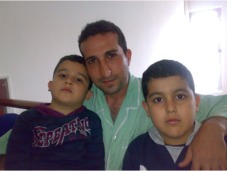 Pastor Youcef Nadarkhani recently refused an offer to secure his release if he agreed to state that the Prophet Mohammed was a messenger sent by God.
Lawyers for Youcef were summoned unexpectedly to his home city of Rasht on 30 December 2011, and during ensuing discussions the local authorities said that they would release him if he agreed to make the statement regarding the Prophet Mohammed. Youcef refused to do so, and remains in prison awaiting a final decision on his case.
Local sources point out that the incident violates article 23 of the Iranian Constitution, which states that no one should be molested or taken to task simply for holding a certain belief. Christian Solidarity Worldwide's Chief Executive Mervyn Thomas said: "Just as the initial conviction of Pastor Nadarkhani is illegal under Iranian law, the recent offer made by the authorities in Rasht is a violation of the Iranian constitution, and of international covenants to which Iran is a signatory that guarantee freedom of religion and freedom to change one's religion."
Youcef was arrested in Rasht in October 2009 and tried in September 2010, when he was found guilty of apostasy and sentenced to death. In October 2011, after Youcef refused three times to recant his faith to save his life, his case was referred to Iran's Supreme Leader, Ayatollah Ali Khamenei, who has yet to make any public comment on the case.
Towards the end of 2011, Youcef's local lawyer in Rasht was informed that the head of the judiciary, Ayatollah Sadegh Larijani, had ordered the presiding judge over the trial in Rasht, Ghazi Kashani, to do nothing for one year. The order was to refrain from issuing a verdict, to hold Youcef in prison and to use whatever means necessary to cause him to recant and "return to Islam".
The delay is thought to be to allow time to convince Youcef to renounce his faith and to allow the case to slip away from the international attention that has built up around it. Most recently, the case was highlighted in the UK parliament on 11 January 2012, during a 90-minute debate on human rights in Iran.
WHAT DOES YOUCEF BELIEVE?
The Iranian Christian news agency Mohabat News has reported that members of the Church of Iran network, in which Youcef is a pastor, are non-Trinitarian and that they believe in baptismal regeneration, salvation by works and that speaking in tongues is the main sign of salvation.
A Reformed evangelical pastor in Iran, Pooyan Mehrshahi, wrote that Youcef is "one of the leaders of a growing cult in Iran, linked with the Oneness Pentecostalism (Jesus Only) cult, which is non-Trinitarian, believes in baptismal regeneration and is very closely linked to and supported by the United Pentecostal Churches outside of Iran".
Regarding their non-Trinitarianism, "Oneness" or "Jesus Only" churches reject the Trinitarian belief that God is three persons. Instead, they believe that the Father, Son and Holy Spirit are three modes of a singular God (i.e. the Father, Son and Holy Spirit should not be regarded as distinct persons) and that the name "Jesus" is the supreme revelatory name of God. They teach that speaking in tongues is a necessary manifestation of the Holy Spirit, and they deny predestination, believing that it is up to the individual to decide whether or not he or she wants to be saved. Within the Oneness movement there is a strong emphasis on modesty and holiness.
The organisation Present Truth Ministries, which supports pastors and evangelists in the Middle East, asserts that members of the Church of Iran believe that salvation is through faith in Jesus Christ, and that they preach the Gospel and are leading people to salvation in Christ. In the opinion of Present Truth Ministries, the Church of Iran rejects the teaching of baptismal regeneration and of tongues being the necessary evidence of the Holy Spirit.
While the Church of Iran is not aligned with mainstream evangelical churches, the fact remains that Youcef is suffering persecution because he follows, and refuses to deny, the Lord Jesus Christ. (CSW, Evangelicals Now, Mohabat News, Present Truth Ministries, Wikipedia)
Share this