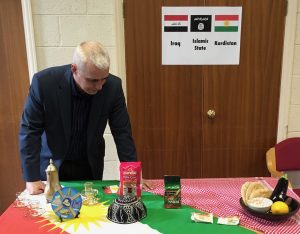 On Saturday 14 April, Church in Chains organised Explore, an interactive afternoon in Crinken Church, Shankill, Co. Dublin to give our supporters insights into what some of the money they give is used for overseas.
Malcolm MacLeod from Steadfast Global travelled from Scotland especially for this event to tell us about his work. Supporters travelled from as far as Mayo, Dundalk, Meath as well as Dublin and Wicklow to hear him speak and pray together.
Malcolm gave three presentations on the situation of Christians in northern Iraq: Iraq – the Past, Iraq ­­– the Present and Iraq – the Future, interspersed by time for prayer (in groups and in a prayer room for quiet prayer), tea and coffee and to explore the display stands.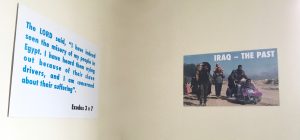 In the first presentation, Malcolm gave us background information on what has happened in northern Iraq in the past few years. He outlined how Christians and Yazidis were forced to flee their homes in the Nineveh Plains from Islamic State militants in 2014. Many men were killed by Islamic State militants and women and girls disappeared and were held as sex slaves. Malcolm showed us many photos and told us some heart-breaking stories of the suffering and trauma families have had to endure. The Christians mostly fled north to Iraqi Kurdistan. The majority found shelter in Christian villages in Kurdistan after some were harassed and faced discrimination in the UN refugee camps due to their faith. Malcolm shared of how, in Scotland, he had prayed for God to show him how Steadfast Global could respond to this vast need. He went on to explain how he had developed close relations with a respected local Christian partner, Zalal Life, through which aid has been channelled.
In the second session, Malcolm focussed on the current situation in northern Iraq, which is very unstable. While Islamic State was in charge of the Nineveh Plains, there were no travel restrictions to Kurdistan. However, following a Kurdish vote for independence in autumn 2017, restrictions were introduced and some of his recent trips to bring aid to displaced Christians had to be cancelled due to a flight ban and visa problems. However, Malcolm did manage to visit Kurdistan this February, which was his seventh trip to the region. Malcolm's team includes health care professionals who run health clinics during their visits and provide medication. The team also provides other necessities such as mattresses, food items and building materials for shower units. Also, the team has been giving micro-loans to Christians who need some help starting their businesses again.

In the third and last session, Malcolm spoke about the plans for the future. One current project involves "recycling" abandoned houses owned by Christians who have emigrated to the West. It is planned that these houses will be taken over by internally-displaced Christians whose own homes on the Nineveh Plains have been completely destroyed. This would be a win-win situation as the emigrants would get some capital that they never expected, while the remaining Christians would be able to move in much sooner than if they had to start building whole villages from scratch. There is also a lot of work going on to train and disciple Christians to support the local church.
Overall, Malcolm gave a message of hope that God is at work in this broken country of Iraq. And we want to encourage you to keep praying for restoration, healing and blessing for our brothers and sisters in Christ.
Since 2015 Church in Chains has been able to support Steadfast Global substantially thanks to the generosity of our Irish supporters.  At Explore we gave Malcolm another cheque for the equivalent of €6,500 Euro towards this wonderful work.
Share this