For the past few days, the remaining Christians in Mosul, Iraq's second city, have been fleeing, following an ultimatum from the Islamic State that they convert to Islam, pay a special religious tax or face death.
Last week the militant group in control of Mosul, the Islamic State (formerly known as ISIS – the Islamic State of Iraq and Syria) summoned Christian leaders to a meeting to notify them of Islamic rules to be applied to non-Muslims. The Christian leaders did not attend this meeting. Consequently, it was announced that Christians should leave the city or else face execution. They were ordered to leave all property behind. The ultimatum was initially set for noon on Friday 18 July but was then extended by 24 hours. The order from the Islamic State was broadcast over mosque loudspeakers on Friday.
Fighters from the Islamic State took control of Mosul on 10 June. Almost 500,000 people (including thousands of Christians) left the city in a mass exodus immediately following the takeover. Some remained, waiting to see if they could continue to live in their homes. On Sunday 29 June – the first day of Ramadan, the Islamic month of fasting – ISIS declared the restoration of the caliphate, a united Islamic state under one ruler or caliph, in the cross-border territory it controls, from the northern Syrian province of Aleppo to the eastern Iraqi province of Diyala. The group said it would now be known simply as the Islamic State, indicating that it is no longer confined to Iraq and Syria.
Marked houses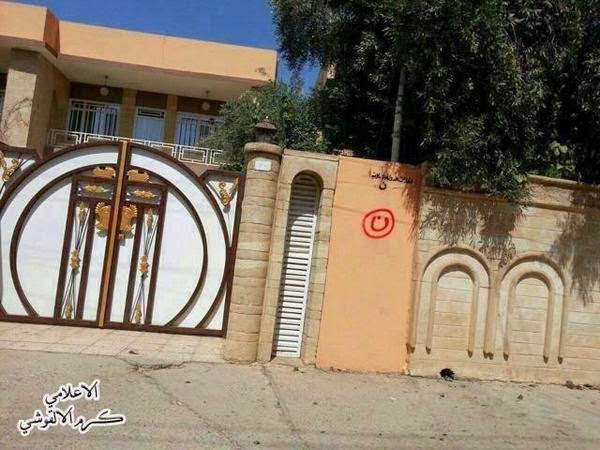 During last week, the walls of homes of Christians in Mosul were spray-painted with the letter Nun (ن), the 14th letter of the Arabic alphabet (the equivalent of letter N in the Roman alphabet). It is the first letter of the word Nasara (نصارى : Nazarenes), a term used in the Quran to describe Christians. The markings were to be used to identify homes to be taken over.
Most Christians left Mosul ahead of the ultimatum, many of them robbed of their possessions as they fled for safety, the remnants of a community that once numbered 100,000. They fled in different directions, mainly seeking refuge in cities under Kurdish control.
"We have lived in this city and we have had a civilization for thousands of years and suddenly some strangers came and expelled us from our homes," said a woman in her 60s who fled for Hamdaniya, a mainly Christian town controlled by Kurdish security forces to the southeast of Mosul.
"The Islamic State stopped my relatives at a checkpoint when they were fleeing and when they found out they were Christians, they took everything they were carrying, including their mobile phones," said a Christian man in Hamdaniya, who spoke on condition of anonymity. "They left them only with the clothes they were wearing." he said, speaking from Hamdaniya.
Other Christians were forced to walk 70 kilometres to Tel Afar at night from Mosul after the Islamic State confiscated their cars. They carried children on their backs, and arrived exhausted and dehydrated.
It is believed that 15 Assyrian Christian families in Mosul converted to Islam to avoid losing their life and wealth. In one case, a young Assyrian woman left her family which had converted, saying she did not want to become a Muslim. She is in safe hiding in North Iraq.
Safe haven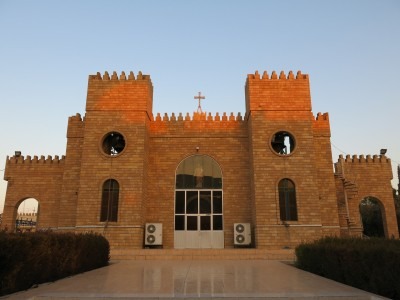 One ray of hope is the affirmation by Kurdish leaders that Christian refugees are being offered a safe haven in Kurdistan and will be welcomed, protected and free to practise their religion.
Ainkawa (pictured) is a mainly Christian district of Erbil, the Kurdish capital. Religious Affairs spokesman for the Kurdish administration Mariwan Naqshbandi said: "In 2003 we had around 2,000 families living in Ainkawa, now we have 6,000 families. Most of these are from Christian areas of Iraq."
The region's newly-appointed Religious Affairs Minister, Kamal Muslim, gave this assurance: "Kurdistan will always be a safe haven for those leaving their places of terror." He also affirmed that Christians would be free to practise their beliefs in Kurdistan.
Kurdish government spokesmen offered two reasons for their open-handed policy towards Christians: they know what it is like to be persecuted, having been targeted by Saddam Hussein with chemical weapons; and although most are Sunni Muslim, they say they value their nationality – for which they have fought for many years – above their religious identity.
However, Christians in Kurdistan do face restrictions, and those from a Muslim background especially remain at risk.
(Assyrian International News Agency, Barnabas Fund, Irish Times, Middle East Concern, Release International, Reuters)
Share this