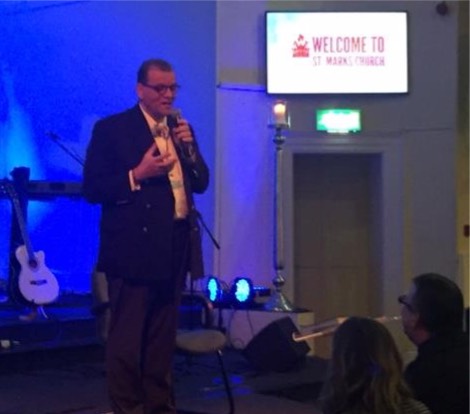 Canon Andrew White, known as "the Vicar of Baghdad", has spoken in Dublin about his ministry amongst Iraqi Christian refugees.
Canon Andrew White (53) has ministered for many years in the Middle East. He came to Dublin last weekend to speak and give interviews about the situation of Christians in the Middle East and about his ministry of relief and reconciliation – he is the Founding President of the Foundation for Relief and Reconciliation in the Middle East. He also met officials at the Department of Foreign Affairs and Trade to lobby for support for peace efforts in the Middle East.
A former anaesthetist, Andrew retrained as an Anglican minister and lived in Baghdad from 2003 as vicar at St George's Church, the only Anglican church in Iraq, until Archbishop of Canterbury Justin Welby told him to leave in November 2014 for safety reasons. In the last five years, 1,760 members of his congregation in Baghdad have been killed. He is now a pastor to Iraqi Christian refugees, and divides his time between Jordan, Erbil and Jerusalem. Andrew has suffered from multiple sclerosis for twenty years.
St Mark's, Sunday 10 January
On Sunday evening, 10 January, Canon Andrew spoke to a large crowd at St Mark's Church, Pearse Street.
Describing the devastation of Christian communities in Iraq, he said that of the many Christians living in Nineveh two years ago, not one is left. They have been killed or fled, and their businesses have been destroyed and their homes blown up.
"My people fled to Kurdistan and Jordan," he said. "My people fled, and I have gone to them. We are all together." He said that amongst the refugees all denominations have been wiped out, and he is no longer seen as an Anglican priest: "We all follow Jesus," he said. "We have become one."
Andrew was reluctant to talk of the atrocities that happened around him in Iraq, but recounted one incident to illustrate the utter brutality of the Islamic State militants: an Iraqi Christian man came to him in distress because IS had threatened that if he did not agree to leave Christianity and follow Islam his children would be killed. He agreed, and went to express his shame to Andrew, who tried to reassure him. Despite what had happened, the militants found the man's five children and told them to stop following Jesus and turn to Islam. They refused, saying: "We love Jesus. We talk to Him every day." The children were beheaded.
One day in the refugee camps, Andrew told a boy called Mario to ask him for whatever he wanted. The boy asked, "Will you give me school?" So Andrew started a school for refugee children, and showed two videos of the school to the audience at St Mark's.
At the end of his presentation, Andrew produced wristbands made by refugees and internally displaced persons. They are not allowed to work, so many have started to make wristbands out of knotted cord, each with a tiny cross attached: black signifying pain and suffering, but the cross signifying life.
Interview on "Today with Seán O'Rourke"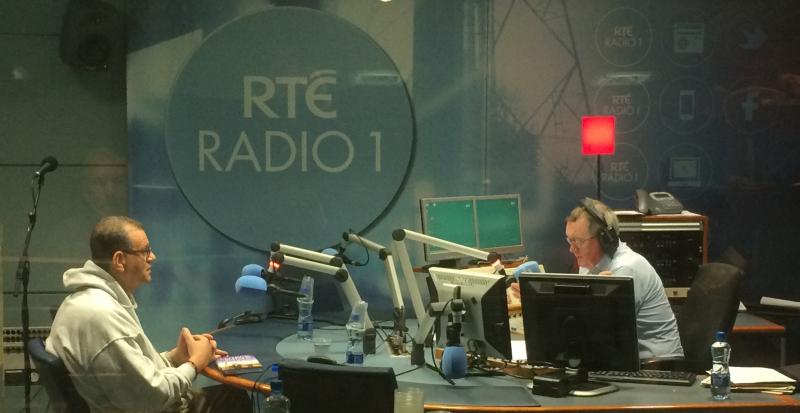 Seán O'Rourke interviewed Andrew on RTE Radio One on Monday 11 January. Andrew began by explaining that many Iraqi Christians fled Baghdad and returned to their homelands in Nineveh (including the city of Mosul) only to face attacks from Islamic State militants who destroyed their homes, businesses and historic churches. Many fled again, to Jordan, where Andrew's ministry has provided them with homes, food, a school and a clinic.
Andrew spoke of trying to engage with Islamic State militants. He invited them to dinner, and they replied that they would come and that they would cut off his head. So he withdrew the invitation. Despite having worked in reconciliation for many years, Andrew said, "With ISIS there is no dealing… they are about terror; they are about destruction."
Seán O'Rourke asked Andrew if he though targeted bombings would be effective against IS, but Andrew said that he was against this approach because of so-called "collateral damage". He expressed the view that the only answer is troops on the ground in order to "confront them head-on". He added, "Bombing them from afar is not a solution."
Turning to Syria, he said, "Assad, for all his problems, has done more to protect the Christians than anyone else… If he were removed, who would then go in? We might be left with a worse leader."
Irish Times interview with Patsy McGarry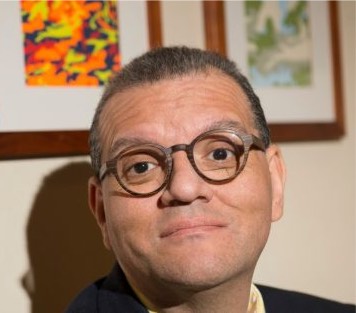 Andrew spoke of his efforts to bring about reconciliation in the Middle East, working "with religious and political leaders, also with the Jewish leaders. We had the first official meeting between Israel and Iraq. Nobody knows about that. It was last year."
Regarding Islamic State, he said: "I believe that the only way of dealing with them is to have troops on the ground. I don't believe in just bombing from the sky."
Andrew explained that under Saddam Hussein "Christians had a brilliant deal" because Saddam also belonged to a minority. Once the Americans withdrew, he said, "Within eight months [Islamic State] formed and our people were then seriously persecuted… Today, Christians have no security in the Middle East apart from one place, Israel."
In Syria, he said, "Assad protected the Christians and he still does. What we're really worried about is what will happen if Assad isn't there. He's a bad guy and if he's removed do you think a good guy would come? I don't."
Andrew said that there were many attempts to kill him when he lived in Baghdad, but that he continues to return in secret. Now, in Jordan, "my parish is all the Iraqi refugees, the Iraqi Christians who have fled for their lives". Most have seen their families killed. "All are one thing, Christian. All the denominations are gone. I'm not called the Anglican priest. I'm just their priest."
Read the full Irish Times article (published online only)

Interview on Spirit Radio with Wendy Grace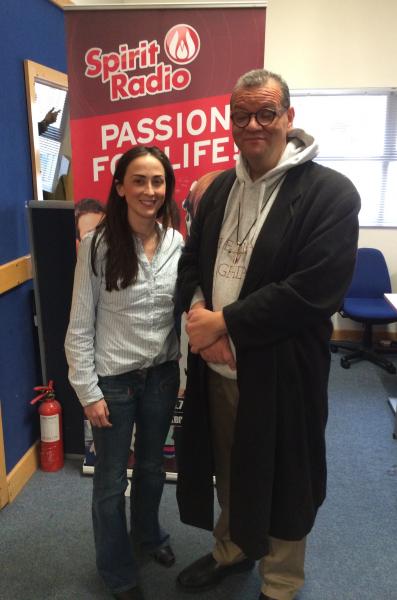 On Tuesday 12 January, Andrew was interviewed by Wendy Grace on Spirit Radio. He spoke of his early days in Baghdad doing reconciliation work with Shia and Sunni Muslims. He also spoke of the suffering of the Iraqi people during the period of Western sanctions on the country when Saddam Hussein was in charge. After the removal of Saddam, he recalled a time of great hope which was short-lived before the country was engulfed in violence. Andrew also spoke of how the Christian population of Iraq has dwindled from 1.5 million to just 200,000 today. Andrew presented Wendy with a knotted wristband with a tiny cross attached (made by Iraqi refugees) stating "The Cross is our hope".
Listen to the Spirit Radio interview
Irish Independent interview with Sarah MacDonald (Published 12 January 2015)
Andrew described the IS campaign against Christians in parts of Iraq and Syria as "genocide", and appealed to Western governments to do more to help this persecuted minority, warning that Iraq and Syria are being ethnically cleansed of their Christian communities. He appealed to the Irish Government to include persecuted Christians among the refugees taken in from Syria and Iraq.
Andrew said that he continues to travel into Iraq secretly, and was there recently, but declined to give further details for security concerns, describing the situation as "horrendous".
Read the full Irish Independent article
Share this