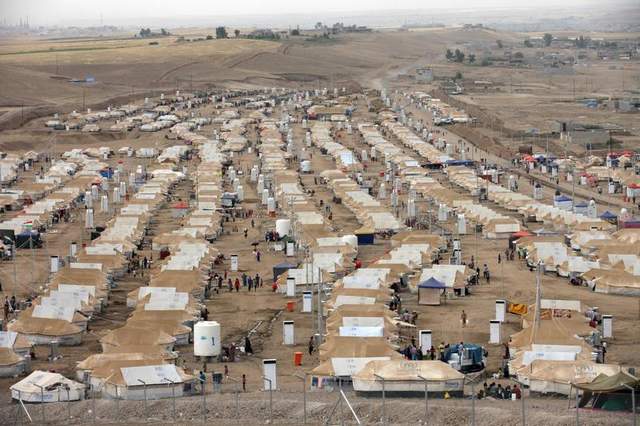 Most of the tens of thousands of Iraqi Christians forced to flee their homes earlier this month as Islamic State militants advanced have fled to the city of Erbil, the Kurdish capital. However, the city has struggled to provide shelter to the huge influx of refugees and many have been sleeping in the streets.
The extent of the humanitarian problem was seen by the Chaldean (Catholic) Patriarch Louis Raphael Sako who visited Erbil and witnessed displaced Christians sleeping in churches, schools, streets and public parks. Some of the most vulnerable refugees (children and elderly people) have died because of shortages of water, food, medicines and shelter.
Many Christian aid agencies have been working with local Christian leaders and organisations to provide immediate assistance to the Christian refugees – many of whom have nothing. During July and August, Church in Chains has sent €7,860 (via Barnabas Fund) to assist Christian refugees.
Soon after refugees began to arrive in Erbil, a committee was established by all the organisations (local and international) involved in relief to identify the immediate needs and to co-ordinate action. The Governor of Erbil, Nawzad Hadi, met with the committee and one large central warehouse was opened to house all the supplies provided by aid organisations and also to arrange distribution to those in need. Youth Centres and schools have been opened for the refugees to sleep in.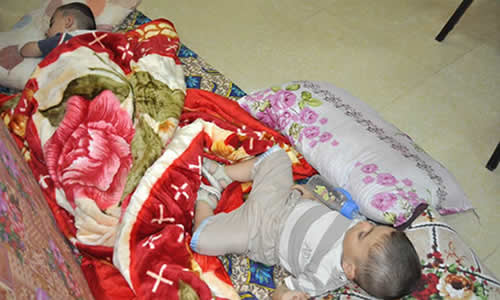 Barnabas Fund has reported how their aid is assisting: "These beleaguered Christians, who arrived into Erbil and Dohuk, carried little or nothing. They are now receiving food, mattresses and blankets and also hygiene kits containing shampoo, soap, antiseptic, detergent and washing powder. Each family is receiving a water container, and a portable cooker for preparing simple meals on.
"Food parcels for those still on the move contain beans, tahini, biscuits, jam, and tins of beef, fish and chicken. But families with access to cooking facilities are receiving bags with additional cooking items, namely, rice, tea, cooking oil, sugar, tomato paste, and lentils.
"Wherever they are staying, be it in a church hall, public building or on the streets or open fields, these basic living items are making their situation more bearable."
Governor Hadi has said that the city is struggling to cope with almost half a million refugees: "The total number of Iraqi refugees in Erbil alone has exceeded the 400,000 mark and [they] are distributed inside and outside the capital." He said that Kurdish officials see it as their moral duty to receive Iraqi refugees, but that their steady influx over the last few weeks was beginning to "burden services in the region".
Though the city faces serious problems, many of the displaced say they have been welcomed and cared for. However, there are concerns as to how the refugees will be cared for if they have to stay long-term in Erbil, where average winter temperatures fall to 1º Celsius.
Irish government response
Charles Flanagan, Minister for Foreign Affairs and Trade, announced that the Irish government will provide €250,000 to the United Nations Children's Fund (Unicef) and a further €250,000 to the International Committee of the Red Cross (ICRC) to support their emergency response activities in Northern Iraq.
He also said that that he had been discussing with his Cabinet colleague, Minister for Justice Frances Fitzgerald, ways in which Ireland could offer refuge to a number of families whose lives have been devastated by this appalling violence and oppression.
"We are both anxious that Ireland play its part and Minister Fitzgerald has agreed that Ireland will provide refuge to a number of families fleeing the violence being perpetrated by Isis in northern Iraq. I remain extremely concerned about the overall plight of Christian and other minority communities in Iraq and the threat they face from extremists groups such as Isis."
Islamic State rule in Mosul
Last month,the remaining Christians in Mosul, Iraq's second city, fled following an ultimatum from the Islamic State that they convert to Islam, pay a special religious tax or face death.
The brutality of Islamic State rule in Mosul under the leadership of self-proclaimed caliph, Abu Bakr al-Baghdadi (pictured), has become clear from reports of public executions for crimes such as adultery.
Public smoking, cards and dominoes have been outlawed. Music shops have been closed, except those willing to sell CDs of the Islamic State's own religious chants and propaganda DVDs, restrictions reminiscent of the Taliban rule in Afghanistan.
Women are made to wear face-covering veils and those who expose their faces are publicly beaten on their legs with wooden rods, as are their husbands or male chaperones.
Hoax messages about atrocities
In recent days, several chain emails and text messages have been circulating stating that Islamic State militants have been beheading Christians and children and calling on recipients to pray urgently and immediately share the message with others.
Some of these messages have been found to be hoaxes while other claims are impossible to verify and highly questionable. The Gospel Coalition has published a useful article on the circulation of these messages
(Asharq Al-Awsat, Barnabas Fund, Gospel Herald, Irish Times, Wall Street Journal)
Share this